20.10.2018 | Original Article | Ausgabe 3/2019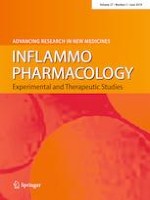 Intraarticular injection of dexamethasone promotes bone erosion in collagen-induced arthritis in mice through up-regulation of RANKL expression
Zeitschrift:
Autoren:

Xiaoxuan Sun, Yanyan Wang, Miaojia Zhang, Qiang Wang
Wichtige Hinweise
Sun Xiaoxuan and Wang Yanyan contributed equally to the work.
Abstract
Background
Dexamethasone (DEX) is an effective therapeutic option commonly used in the treatment of many inflammatory diseases. However, DEX could impair proliferation or differentiation of osteoblasts, suggesting a pivotal role of DEX in bone destruction.
Objective
To investigate whether intraarticular injection of DEX could exacerbate bone erosion during CIA development.
Setting
Collagen-induced arthritis (CIA) mice were divided into PBS-treated and DEX-treated groups (
n
 = 5/group). Negative control group: DBA/1 mice (
n
 = 5) were used as age-matched, healthy, untreated controls.
Method
CIA was induced in male DBA/1 mice. Intraarticular injected DEX (0.01 mg/Kg, 10 μl) into the knee joint of CIA on Day 28, Day 35, Day 42 and Day 49 post the 1st immunization.
Results
The severity of the arthritic disease was ameliorated in DEX-treated mice, accompanied by the decreased expression of IL-6, IL-8 and TNF-α. However, DEX treatment accelerates bone erosion and osteoporosis during CIA development and triggers higher expression of RANKL, IL-17 in vitro and vivo.
Main outcome measure
The effect of DEX on bone structure was analyzed using Haematoxylin & Eosin (H&E) staining and Micro-CT. The levels of receptor activator for nuclear factor-κ B ligand (RANKL) and osteoprotegerin (OPG) were investigated by real-time PCR, Western Blot and immunohistochemical analysis. RASFs were stimulated with Interleukin (IL)-1β and then treated with different concentrations of DEX for 72 h.
Conclusion
Intraarticular injection of DEX could exacerbate bone erosion in CIA model via up-regulation of RANKL expression.