29.05.2018 | Original Article | Ausgabe 3/2018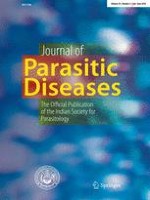 Intracellular development of
Trypanosoma cruzi

in the presence of metals
Zeitschrift:
Autoren:

Laís Pessanha de Carvalho, Edésio José Tenório de Melo
Abstract
Trypanosoma cruzi
is transmitted to vertebrate hosts during the feeding of blood-sucking insects. After the invasion of host cells, the parasite resides within the parasitophorous vacuole until to escape to host cytoplasm and to proliferate, establishing an infection. Studies demonstrated that some intracellular parasites have to acquire all essential nutrients as well as transition metals from the host cell to be pathogenic, to maintain the homeostasis and to replicate. The present study investigated the progressive steps of the intracellular parasite development and establishment of infection in the presence of ZnCl
2
, CdCl
2
and HgCl
2
. LLC-MK2 cells were infected with trypomastigotes during 6–84 h to investigate the steps of intracellular parasite development. After the host cells were infected during 12 h and treated with metals during 24 or 60 h or they were treated for 24 h and cultured for 72 h more to observe the reversibility. The results showed that the non-synchronous invasion of trypomastigotes resulted in an increasing number of intracellular parasites in intermediary forms (until 24 h post-infection), the appearance (from 36 h) and proliferation (84 h) of the amastigotes. The 24 h-treatments were not enough to impair parasite escape to the host cytoplasm and reproduction. However, 60 h of incubations led to a significant reduction in parasite numbers, as well as the reversibility assays. In conclusion, new insights about the intracellular
T. cruzi
development in the presence of metals were provided, and further studies should be performed to investigate the events involved in parasite death and elimination.