11.09.2017 | Ideas and Innovations | Ausgabe 2/2018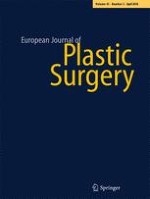 Intralesional excision combined with intralesional cryosurgery for the treatment of oversized and therapy-resistant keloids of the neck and ears
Zeitschrift:
Autoren:

Lior Har-Shai, Norbert Pallua, Justinas Grasys, Issa Metanes, Yaron Har-Shai
Abstract
This prospective case study presents a new method for the treatment of oversized and therapy-resistant keloids of the neck and ears employing intralesional excision combined with intralesional cryosurgery. The keloids were excised in an intralesional approach, and the remaining base and lateral margins of the scar tissue were frozen using intralesional cryoneedles. After complete thawing of the frozen tissues, the margins of the scar were approximated and sutured. The follow-up period extended over 18–24 months. Over a period of 12 months, the scars gradually flattened with no hypopigmentation. No signs of recurrence of the keloids were seen. Intralesional excision of oversized and therapy-resistant keloids combined with intralesional cryosurgery could well be an additional tool to the plastic surgical armamentarium, for treating this group of patients.
Level of Evidence: Level IV, therapeutic study.