01.12.2015 | Research article | Ausgabe 1/2015 Open Access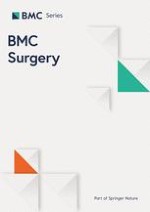 Intraoperative blood loss, postoperative drainage, and recovery in patients undergoing lumbar spinal surgery
Zeitschrift:
Autoren:

Haibo Zou, Zhongshi Li, Houfu Sheng, Mingsheng Tan, Feng Yang, Li Liang, Jingxin Zhao
Wichtige Hinweise
Competing interests
The authors declare that they have no competing interests.
Authors' contributions
HZ participated in the design of the study and performed the statistical analysis. HZ drafted the manuscript. HZ, ZL, HS, MT, FY, LL, JZ conceived of the study, and participated in its design and coordination and helped to draft the manuscript. All authors read and approved the final manuscript.
Abstract
Background
Spine surgery is widely accepted as an effective management for patients with lumbar disc herniation; however, the factors influencing intraoperative procedure and prognosis are not fully understood. The present study was aimed to identify the factors influencing intraoperative blood loss, postoperative drainage volume, and recovery in patients undergoing spinal surgery.
Methods
We retrospectively analyzed the clinical data of 183 consecutive patients with lumbar disc herniation who underwent spine surgery. The clinical characteristics, operation procedure, and outcome were documented and the correlations were analyzed.
Results
There were significant differences between one-level and two-level operations in the bleeding volumes of male (
P
 = 0.005) and female (
P
 = 0.002) patients, and in final drainage of male (
P
 = 0.043) and female (
P
 = 0.003) patients. The blood loss was correlated with the operation duration. There were differences in intraoperative bleeding and final drainage between groups with one-level and two-level operations. Additionally, there were differences in intraoperative autologous blood transfusion among various groups. There were significant differences in intraoperative bleeding between autologous blood transfusion and non-transfusion groups.
Conclusions
The key factors affecting the intraoperative blood loss and postoperative drainage volume include operation methods, operation duration, blood-transfusion modes, and usage of anticoagulants. These results should be taken into consideration in the attempt to optimize operation procedure and improve post-operative recovery.