11.12.2015 | Research Paper | Ausgabe 4/2016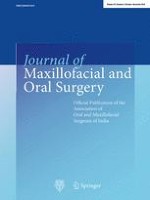 Intraoperative Computed Tomography in Bilateral Sagittal Split Osteotomy
Zeitschrift:
Autoren:

Jimoh Olubanwo Agbaje, Ahmed Sobhy Salem, Ivo Lambrichts, Luc Daems, Paul Legrand, Constantinus Politis
Abstract
Objectives
The objective of the study was to show the importance of intraoperative computed tomography as an aid for ensuring inferior alveolar nerve safety during bilateral sagittal split osteotomy.
Materials and Methods
This study included ten patients who underwent bilateral sagittal split osteotomy procedure. All patients were treated for orthognathic reasons. The unerupted lower third molars, if present, were removed at least 6 months prior to Sagittal Split Osteotomy. The Sagittal Split Osteotomy surgical technique was previously described in detail. Each patient underwent computed tomography with an Artis Zeego multi-axis system (Siemens AG, Healthcare Sector, Henkestrasse 127 D-91052 Erlangen, Germany) at the beginning of the operation and immediately after placement of the osteosynthesis plates and screws. The neurosensory tests consisted of a light touch test using the 5.07/10-g Semmes Weinstein monofilament (Stoelting Co, Wood Dale, IL), and patient self-reporting.
Results
Eight (80 %) patients presented with hypoesthesia of lower lip at 6 weeks follow up. At 6 month follow up only two patients (20 %) presented with diminished sensation in the lower lip. Labial sensibility was normal in all patients at the last follow-up visit.
Conclusion
Intraoperative computed tomography enables immediate assessment of treatment and the option to modify the treatment if necessary. Our results indicate that intra-operative computed tomography would be a helpful procedure during orthognathic surgery to improve the postoperative health of the inferior alveolar nerve.