01.12.2019 | Research article | Ausgabe 1/2019 Open Access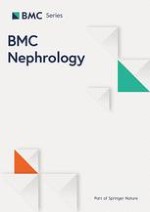 Intrarenal microRNA signature related to the fibrosis process in chronic kidney disease: identification and functional validation of key miRNAs
Zeitschrift:
Autoren:

Jianwen Yu, Chaolun Yu, Boya Feng, Xiaojiang Zhan, Ning Luo, Xueqing Yu, Qin Zhou
Wichtige Hinweise
Electronic supplementary material
Jianwen Yu and Chaolun Yu contributed equally to this work.
Publisher's Note
Springer Nature remains neutral with regard to jurisdictional claims in published maps and institutional affiliations.
Abstract
Background
Though the roles of microRNAs (miRNAs) in renal diseases have been extensively investigated, a thorough screening and comparison of miRNAs among different types of chronic kidney disease (CKD) has never been performed.
Methods
The intrarenal miRNAs were profiled from fresh kidney tissues of patients with biopsy-proven minimal change disease (MCD), focal segmental glomerular sclerosis (FSGS) and diabetic nephropathy (DN) by using microarray. Commonly dysregulated miRNAs were validated by real-time PCR using paraffin-embedded renal tissues from all three types of CKD patients as well as mouse unilateral ureteral obstruction (UUO) model. Two novel miRNAs were selected and annotations of their target genes were performed using GO and KEGG pathway enrichment analysis. Biological functions of three two candidate miRNAs were explored in TGF-β1-induced cell model using human kidney proximal tubular cells (HK-2).
Results
The kidney biopsy samples of three disease types represent different levels of damage and fibrosis, which were the mildest in MCD, moderate in FSGS, and the most severe in DN. 116 miRNAs were identified to be commonly dysregulated, including 40 up-regulated and 76 down-regulated in CKD tissues as compared with healthy donor kidney biopsy tissues. Two novel miRNAs, hsa-miR-3607-3p and hsa-miR-4709-3p, were verified as consistently differentially expressed among all three types of patient samples as well as in mouse model. In vitro, hsa-miR-3607-3p was repressed while hsa-miR-4709-3p was induced by TGF-β1 treatment. Inhibition of hsa-miR-3607-3p or overexpression of hsa-miR-4709-3p promoted TGF-β1-induced migration and F-actin assembling in HK-2 cells, which are characteristics of epithelial–mesenchymal transition (EMT). Further study identified that ITGB8 and CALM3 were the bona fide target genes of hsa-miR-3607-3p and hsa-miR-4709-3p respectively.
Conclusions
The present identify a unique miRNAs profile that probably relates to the common fibrosis process of CKD. Results of our study suggest that hsa-miR-3607-3p and hsa-miR-4709-3p may represent as promising therapeutic targets against kidney fibrosis.