01.12.2012 | Research | Ausgabe 1/2012 Open Access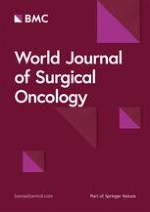 Intrathoracic versus Cervical Anastomosis after Resection of Esophageal Cancer: A matched pair analysis of 72 patients in a single center study
Zeitschrift:
Autoren:

Christian D Klink, Marcel Binnebösel, Jens Otto, Gabriele Boehm, Klaus T von Trotha, Ralf-Dieter Hilgers, Joachim Conze, Ulf P Neumann, Marc Jansen
Wichtige Hinweise
Competing interests
The author(s) declare that they have no competing interests.
Authors' contributions
Christian D. Klink is the responsible main author of this article. He is responsible for its content. Marcel Binnebösel and Jens Otto have made substantial contributions to conception and design of this article. Gabriele Boehm has made substantial contributions to acquisition of data, analysis and interpretation of data. Klaus T. von Trotha and Joachim Conze have been involved in drafting the manuscript and revising it critically for important intellectual content. Ralf-Dieter Hilgers is responsible for the statistical analysis of this article. Ulf P. Neumann and Marc Jansen have given final approval of the version to be published. All authors read and approved the final manuscript.
Abstract
Background
The aim of this study was to analyze the early postoperative outcome of esophageal cancer treated by subtotal esophageal resection, gastric interposition and either intrathoracic or cervical anastomosis in a single center study.
Methods
72 patients who received either a cervical or intrathoracic anastomosis after esophageal resection for esophageal cancer were matched by age and tumor stage. Collected data from these patients were analyzed retrospectively regarding morbidity and mortality rates.
Results
Anastomotic leakage rate was significantly lower in the intrathoracic anastomosis group than in the cervical anastomosis group (4 of 36 patients (11%) vs. 11 of 36 patients (31%); p = 0.040). The hospital stay was significantly shorter in the intrathoracic anastomosis group compared to the cervical anastomosis group (14 (range 10–110) vs. 26 days (range 12 – 105); p = 0.012). Wound infection and temporary paresis of the recurrent laryngeal nerve occurred significantly more often in the cervical anastomosis group compared to the intrathoracic anastomosis group (28% vs. 0%; p = 0.002 and 11% vs. 0%; p = 0.046). The overall In-hospital mortality rate was 6% (4 of 72 patients) without any differences between the study groups.
Conclusions
The present data support the assumption that the transthoracic approach with an intrathoracic anastomosis compared to a cervical esophagogastrostomy is the safer and more beneficial procedure in patients with carcinoma of the lower and middle third of the esophagus due to a significant reduction of anastomotic leakage, wound infection, paresis of the recurrent laryngeal nerve and shorter hospital stay.