23.06.2016 | PHASE II STUDIES | Ausgabe 5/2016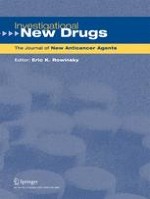 Intravenous and intraperitoneal paclitaxel with S-1 for treatment of refractory pancreatic cancer with malignant ascites
Zeitschrift:
Autoren:

Naminatsu Takahara, Hiroyuki Isayama, Yousuke Nakai, Hironori Ishigami, Sohei Satoi, Suguru Mizuno, Hirofumi Kogure, Saburo Matsubara, Natsuyo Yamamoto, Hironori Yamaguchi, Minoru Tada, Joji Kitayama, Toshiaki Watanabe, Kazuhiko Koike
Summary
Objectives
The aim of this study was to evaluate the safety and efficacy of intravenous and intraperitoneal paclitaxel (PTX) combined with S-1 for treatment of gemcitabine-refractory pancreatic cancer with malignant ascites.
Methods
After the feasibility of this regimen was first confirmed in an interim analysis in 10 patients, a total of 35 patients were enrolled between April 2011 and December 2014. PTX was administered intravenously (50 mg/m
2
) and intraperitoneally (20 mg/m
2
) on days 1 and 8, and 80 mg/m
2
S-1 was administered on days 1–14 every 3 weeks. The primary endpoint was overall survival (OS). The secondary endpoints were progression-free survival (PFS), the objective tumor response, efficacy against malignant ascites, and safety.
Result
In all 35 patients, the median OS and PFS were 4.8 (95 % confidence interval [CI], 2.1–5.3) months and 2.8 (95 % CI, 0.9–4.1) months, respectively. The 26 patients who were evaluable for efficacy achieved a response rate of 8 % and a disease control rate of 69 %. Malignant ascites had disappeared or decreased in 18 (69 %) patients, including complete resolution in 4 (15 %), and a negative change in cytological status was achieved in 8 (31 %) patients. The major grade 3/4 adverse events included neutropenia (34 %), anemia (31 %), nausea (9 %), and catheter-related infections (6 %).
Conclusion
Combination chemotherapy consisting of intravenous and intraperitoneal PTX with S-1 showed acceptable toxicity and favorable efficacy in pancreatic cancer patients with malignant ascites. (Clinical trial registration number: UMIN000005306)