01.12.2017 | Research article | Ausgabe 1/2017 Open Access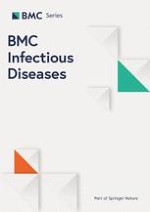 Intravenous artesunate plus Artemisnin based Combination Therapy (ACT) or intravenous quinine plus ACT for treatment of severe malaria in Ugandan children: a randomized controlled clinical trial
Zeitschrift:
Autoren:

Pauline Byakika-Kibwika, Jane Achan, Mohammed Lamorde, Carine Karera-Gonahasa, Agnes N. Kiragga, Harriet Mayanja-Kizza, Noah Kiwanuka, Sam Nsobya, Ambrose O. Talisuna, Concepta Merry
Abstract
Background
Severe malaria is a medical emergency associated with high mortality. Adequate treatment requires initial parenteral therapy for fast parasite clearance followed by longer acting oral antimalarial drugs for cure and prevention of recrudescence.
Methods
In a randomized controlled clinical trial, we evaluated the 42-day parasitological outcomes of severe malaria treatment with intravenous artesunate (AS) or intravenous quinine (QNN) followed by oral artemisinin based combination therapy (ACT) in children living in a high malaria transmission setting in Eastern Uganda.
Results
We enrolled 300 participants and all were included in the intention to treat analysis. Baseline characteristics were similar across treatment arms. The median and interquartile range for number of days from baseline to parasite clearance was significantly lower among participants who received intravenous AS (2 (1–2) vs 3 (2–3),
P
 < 0.001). Overall, 63.3% (178/281) of the participants had unadjusted parasitological treatment failure over the 42-day follow-up period. Molecular genotyping to distinguish re-infection from recrudescence was performed in a sample of 127 of the 178 participants, of whom majority 93 (73.2%) had re-infection and 34 (26.8%) had recrudescence. The 42 day risk of recrudescence did not differ with ACT administered. Adverse events were of mild to moderate severity and consistent with malaria symptoms.
Conclusion
In this high transmission setting, we observed adequate initial treatment outcomes followed by very high rates of malaria re-infection post severe malaria treatment. The impact of recurrent antimalarial treatment on the long term efficacy of antimalarial regimens needs to be investigated and surveillance mechanisms for resistance markers established since recurrent malaria infections are likely to be exposed to sub-therapeutic drug concentrations. More strategies for prevention of recurrent malaria infections in the most at risk populations are needed.