18.11.2019 | Retinal Disorders | Ausgabe 1/2020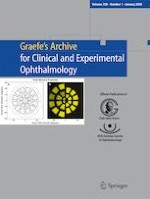 Intravitreal aflibercept for submacular hemorrhage secondary to neovascular age-related macular degeneration and polypoidal choroidal vasculopathy
Autoren:

Jae Hui Kim, Chul Gu Kim, Dong Won Lee, Su Jin Yoo, Young Ju Lew, Han Joo Cho, Joo Yeon Kim, Seok Hyun Lee, Jong Woo Kim
Wichtige Hinweise
Meeting presentation
Part of this study was presented at the Korean Retina Society Symposium, Incheon, South Korea (June 3, 2017)
Publisher's note
Springer Nature remains neutral with regard to jurisdictional claims in published maps and institutional affiliations.
Abstract
Purpose
To evaluate the efficacy of intravitreal aflibercept monotherapy for submacular hemorrhage secondary to neovascular age-related macular degeneration (AMD) and polypoidal choroidal vasculopathy (PCV).
Methods
This prospective, phase 4 clinical trial included 29 patients diagnosed with fovea-involving submacular hemorrhage secondary to neovascular AMD (7 patients) or PCV (22 patients). Patients were initially administered 3 monthly aflibercept injections, followed by 1 injection every 2 months. The primary outcome measure was changes in Early Treatment Diabetic Retinopathy Study (ETDRS) best-corrected visual acuity (BCVA) during the 56-week study period. Other key outcome measures were the proportion of patients who exhibited changes in BCVA of ≥ 15 ETDRS letters from baseline and changes in central retinal thickness (CRT).
Results
The mean size of hemorrhage was 6.2 ± 4.8-disc-diameter area. The mean BCVA significantly improved from 52.9 ± 17.8 ETDRS letters at week 0 (baseline) to 71.8 ± 16.1 letters at week 56 (
P
 < 0.001). At week 56, improvement in BCVA of ≥ 15 letters was noted in 16 patients (55.2%), whereas none of the patients experienced a loss of ≥ 15 letters. The mean CRT significantly decreased from 498.9 ± 194.2 μm at week 0 to 248.3 ± 45.0 μm at week 56 (
P
 < 0.001). During the study period, retinal break developed in one patient.
Conclusions
Intravitreal aflibercept administered every 2 months after the 3 initial monthly doses was found to be an effective and safe treatment method for submacular hemorrhage secondary to neovascular AMD.