01.12.2019 | Research article | Ausgabe 1/2019 Open Access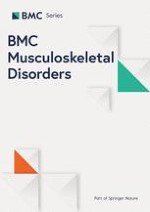 Introduction the revolving scarf osteotomy for treating severe hallux valgus with an increased distal metatarsal articular angle: a retrospective cohort study
Zeitschrift:
Autoren:

Xinwen Wang, Qian Wen, Yi Li, Cheng Liu, Kai Zhao, Hongmou Zhao, Xiaojun Liang
Wichtige Hinweise
Xinwen Wang and Qian Wen contributed equally to this work.
Publisher's Note
Springer Nature remains neutral with regard to jurisdictional claims in published maps and institutional affiliations.
Abstract
Background
Hallux valgus(HV) with an increased distal metatarsal articular angle (DMAA) is one of the most common foot deformities among adults. Double metatarsal osteotomy (DMO) is effective in treating severe HV deformity with an increased DMAA. However, this technique presents the risk of avascular necrosis (AVN) of the metatarsal head and transfer metatarsalgia due to shortening of the first metatarsal. The aim of this study was to introduce a surgical procedure defined as revolving scarf osteotomy (RSO) and compare the clinical and radiological results of RSO and DMO performed for treating severe HV with an increased DMAA.
Methods
First metatarsal osteotomies and Akin osteotomy were performed in 56 patients (62 ft) with severe HV with an increased DMAA in Honghui Hospital from January 2015 to December 2017. RSO was performed in 32 ft and DMO was performed in 30 ft. The Akin osteotomy was performed in both groups. The American Orthopedic Foot and Ankle Society (AOFAS) score, visual analogue scale (VAS) score, the hallux valgus angle (HVA), intermetatarsal angle (IMA), DMAA, and first metatarsal length (FML) and the rates of complications were compared preoperatively and postoperatively in the two groups.
Results
The mean AOFAS score, VAS score, HVA, IMA, and DMAA showed significant improvements in both groups after surgery, but with no significant differences between the two groups. The postoperative FML was significantly larger in the RSO group than in the DMO group (
p
 < 0.001). One of the 30 ft (3.3%) in the DMO group exhibited transfer metatarsalgia at 12 months postoperatively, while another foot (3.3%) in same group had avascular necrosis of the metatarsal head. One of the 30 ft (3.1%) in the RSO group had hallux varus.
Conclusions
No differences in the clinical and radiographic results were observed between the two groups with severe HV and an increased DMAA. However, RSO does not cause shortening of the metatarsal and AVN of the metatarsal head. A long-term, randomized, controlled prospective study with a larger sample would provide higher-level evidence for confirming the clinical efficacy and safety of RSO.