01.07.2014 | Review Paper | Ausgabe 3/2014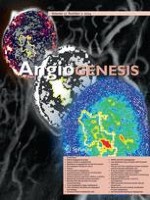 Intussusceptive angiogenesis: expansion and remodeling of microvascular networks
Zeitschrift:
Autoren:

Steven J. Mentzer, Moritz A. Konerding
Wichtige Hinweise
Presented, in part, at the Trans-NIH Angiogenesis Conference, May 21, 2014.
Abstract
Intussusceptive angiogenesis is a dynamic intravascular process capable of dramatically modifying the structure of the microcirculation. The distinctive structural feature of intussusceptive angiogenesis is the intussusceptive pillar—a cylindrical microstructure that spans the lumen of small vessels and capillaries. The extension of the intussusceptive pillar appears to be a mechanism for pruning redundant or inefficient vessels, modifying the branch angle of bifurcating vessels and duplicating existing vessels. Despite the biological importance and therapeutic potential, intussusceptive angiogenesis remains a mystery, in part, because it is an intravascular process that is unseen by conventional light microscopy. Here, we review several fundamental questions in the context of our current understanding of both intussusceptive and sprouting angiogenesis. (1) What are the physiologic signals that trigger pillar formation? (2) What endothelial and blood flow conditions specify pillar location? (3) How do pillars respond to the mechanical influence of blood flow? (4) What biological influences contribute to pillar extension? The answers to these questions are likely to provide important insights into the structure and function of microvascular networks.