01.10.2019 | Review | Ausgabe 6/2019 Open Access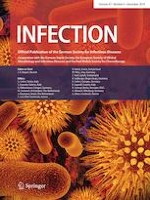 Invasive mould infections in solid organ transplant patients: modifiers and indicators of disease and treatment response
Zeitschrift:
Autoren:

Tobias Welte, Oscar Len, Patricia Muñoz, Luigina Romani, Russell Lewis, Alessandro Perrella
Introduction
This brief review aims at summarising the existing evidence related to prophylaxis, diagnosis, treatment and assessment of early response to invasive mould infections (IMI), in particular IA, in SOT recipients.
Epidemiology and diagnosis of IMI
Prophylaxis
Recommendations for primary antifungal prophylaxis in SOT recipients vary mainly across different transplant centres [
29
,
59
,
60
]. The ISHLT Guidelines for the management of fungal infections in mechanical circulatory support and cardiothoracic organ transplant recipients include a summary of recommendations for prophylaxis in adults and provide some considerations on its use in paediatric transplant patients [
13
]. The ESCMID 2017 Executive Summary on the diagnosis and management of
Aspergillus
diseases contains a description of the factors that place SOT recipients at high risk of infections and recommends considering universal prophylaxis for lung transplant patients and targeted prophylaxis in the remaining SOT groups [
25
], while the 2016 IDSA Guidelines advise the adoption of a scheme based on the institutional epidemiology of infection and assessment of individual risk [
7
]. The different approach provided by both guidelines and the lack of binding recommendations for the antifungals to be used reflect not only the lack of evidence-based data but also the variability in policies at national and continental level [
24
].
For heart transplant recipients, Muñoz et al. [
34
] recommend a targeted IA prophylaxis for patients with at least one risk factor for infection. To prevent invasive aspergillosis, the ESCMID-ECMM_ERS Guideline recommends inhaled AmB or voriconazole in lung recipients, itraconazole or inhaled AmB in heart recipients, and AmB and echinocandins in liver recipients [
25
]. Nebulised amphotericin B has been successfully used to prevent
Aspergillus
spp. infections, particularly in patients with CLAD [
29
], as well as in liver transplant patients [
59
,
60
]. Long-term prophylaxis, particularly in institutions with significant air contamination, can significantly reduce IA incidence and mortality [
34
]. Overall, however, evidence-based information on the pharmacological prevention of IA in SOT patients is still lacking.
Treatment
In SOT patients, consideration of the extent of immunosuppression and of the transplanted organ, should guide prophylaxis and treatment of IMI. Azoles, amphotericin B, and echinocandins all have the potential to interact with immunomodulatory drugs [
61
], and a therapeutic drug monitoring (TDM) may be required for triazole antifungals because of their variable pharmacokinetic properties and increased potential for pharmacokinetic drug–drug interactions [
62
].
Voriconazole is considered as the first-line therapy for the treatment of invasive aspergillosis [
24
,
63
–
65
] and liposomal amphotericin B for mucormycosis in the Global guideline for the diagnosis and management of mucormycosis [
66
] presently under public consultation. Voriconazole is still considered as the first-line treatment for
Scedosporium
[
67
]. For infections by other hyalohyphomycoses, treatment has not yet been established [
67
]. Isavuconazole is apparently as effective as voriconazole in the treatment of IA and is characterised by a reduced liver toxicity, but the pivotal clinical trial included only haemato-oncological patients [
68
]. The ESCMID-ECMM-ERS guidelines recommend the use of echinocandins only in a combination therapy of azole-resistant Aspergilli [
25
]. Recommendations for treatment of adult cardiothoracic transplant candidates and recipients are included in the ISHLT guidelines [
13
], which also discuss therapeutic strategies in the paediatric population, and in the AST Infectious Diseases Community of Practice [
19
]. Some information is also provided by the ESCMID 2017 executive summary [
25
]. Overall, however, most evidence for the treatment and prevention of IMI in SOT patients is still based on clinical experience [
2
]. Because of the apparently only mild drug–drug interactions [
69
], the new triazole isavuconazole has the potential to become an important addition to the antifungal armamentarium, but specific studies are still needed to validate its use in SOT patients [
70
].
As with patients with haematological malignancies, the role of combination antifungal therapy is still controversial. Combination therapy is most frequently considered when no single drug provides sufficient protection, triazole drug exposures are unknown (i.e. while awaiting TDM results), or the patients present with breakthrough fungal infections [
25
,
71
]. Nebulised amphotericin B therapy has been used as an adjunct to a primary voriconazole antifungal therapy to treat a mixed infection by
A.
fumigatus
,
Scedosporium prolificans
, and
Candida glabrata
[
72
]. The ISHLT guidelines, however, underline the lack of well-designed, randomised trials evaluating combination therapies in the treatment of IFD in SOT patients [
26
].
Evaluation of treatment response
Discussion
Conclusions
In all patients with IMI, antifungal therapy is crucial to reduce the high mortality rates associated with the infectious disease. Response to therapy should be assessed early and at regular intervals. No indications of improvement (minor or no improvement, or progressive infection) according to selected criteria should lead to a prompt change of the antifungal treatment, to cater for possible infections by
Mucorales
or other moulds such as
Scedosporium
. Imaging techniques such as CT scan and possibly angiography at regular intervals during early and long-term follow-up, coupled with a careful clinical diagnostic workout, should be evaluated for their use in SOT recipients with suspected IA as well as outcome predictors and should be standardised to improve therapy monitoring. PCR, galactomannan and beta-
d
-glucan tests, and selected inflammation parameters such as cytokines, are useful to assess treatment response in haematological patients. Their use in the SOT population, however, has not yet been definitively assessed, but these markers may provide additional information to guide clinical decisions.
The therapeutic workup should consider also a reduction of immunosuppressive therapy. Decreasing immunosuppression is a cornerstone in the treatment of SOT recipients with suspected IMI [
23
]. IFD are mainly a consequence of immunosuppression [
5
], particularly after the strong inflammatory response elicited by corticosteroids [
61
]. Thus, the role of immunosuppression and immune tolerance mechanisms in the response to IMI treatment should not be underestimated. For instance, the reduced infusion-related toxicity of liposomal amphotericin B (L-AmB) seems to be related to its effects on molecular immunological patterns [
92
], and the AmB deoxycholate toxicity linked to the production of pro-inflammatory cytokines [
100
]. Thus, the choice of the antifungal drug should be driven primarily by its antifungal activity, but its toxicity and its effects on the immune system, two features that are intertwined, should also be given the necessary attention [
61
].
Acknowledgements
This work is the outcome of an expert meeting supported by an unrestricted grant by Gilead Sciences GmbH.
Compliance with ethical standards
Conflict of interest
The authors declare that they have no competing interests.
Open Access
This article is distributed under the terms of the Creative Commons Attribution 4.0 International License (
http://​creativecommons.​org/​licenses/​by/​4.​0/​
), which permits unrestricted use, distribution, and reproduction in any medium, provided you give appropriate credit to the original author(s) and the source, provide a link to the Creative Commons license, and indicate if changes were made.