06.04.2018 | Original Article | Ausgabe 7/2018 Open Access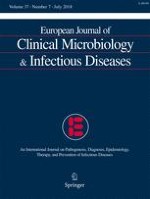 Invasive pulmonary aspergillosis is associated with adverse clinical outcomes in critically ill patients receiving veno-venous extracorporeal membrane oxygenation
Autoren:

I. Rodriguez-Goncer, S. Thomas, P. Foden, M. D. Richardson, A. Ashworth, J. Barker, C. G. Geraghty, E. G. Muldoon, T. W. Felton
Wichtige Hinweise
E. G. Muldoon and T. W. Felton are joint last authors.
A part of this study was presented as an oral presentation at the 27th European Congress of Clinical Microbiology and Infectious Diseases (Vienna, Austria, 2017).
Abstract
To identify the incidence, risk factors and impact on long-term survival of invasive pulmonary aspergillosis (IPA) and
Aspergillus
colonisation in patients receiving vv-extracorporeal membrane oxygenation (ECMO). A retrospective evaluation was performed of patients receiving vv-ECMO at a tertiary hospital in Manchester (UK) between January 2012 and December 2016. Data collected included epidemiological data, microbiological cultures, radiographic findings and outcomes. Cases were classified as proven IPA, putative IPA or
Aspergillus
colonisation according to a validated clinical algorithm. One hundred thirty-four patients were supported with vv-ECMO, median age of 45.5 years (range 16.4–73.4). Ten (7%) patients had putative IPA and nine (7%) had
Aspergillus
colonisation. Half of the patients with putative IPA lacked classical host risk factors for IPA. The median number of days on ECMO prior to
Aspergillus
isolation was 5 days. Immunosuppression and influenza A infection were significantly associated with developing IPA in a logistic regression model. Cox regression model demonstrates a three times greater hazard of death associated with IPA. Overall 6-month mortality rate was 38%. Patients with putative IPA and colonised patients had a 6-month mortality rate of 80 and 11%, respectively. Immunosuppression and influenza A infection are independent risk factors for IPA. IPA, but not
Aspergillus
colonisation, is associated with high long-term mortality in patients supported with vv-ECMO.