01.12.2015 | Research article | Ausgabe 1/2015 Open Access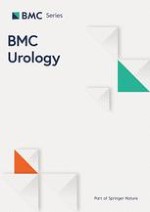 Inverse relationship of Rho kinase and myosin-light chain kinase expression in the aging human detrusor smooth muscle
Zeitschrift:
Autoren:

Timo Kirschstein, Theresa Sahre, Karoline Kernig, Chris Protzel, Katrin Porath, Rüdiger Köhling, Oliver W. Hakenberg
Wichtige Hinweise
Rüdiger Köhling and Oliver W. Hakenberg contributed equally to this work.
Competing interests
The authors declare that they have no competing interests.
Authors' contributions
TK designed the study, performed the statistical analysis, and prepared the manuscript. TS and KP carried out the molecular genetic studies. KK performed analysis and prepared the manuscript. CP and OWH provided the human bladder specimens. RK and OWH conceived of the study, and participated in its design and coordination and prepared the manuscript. All authors read and approved the final manuscript.
Abstract
Background
Rho kinase (ROCK) and myosin-light chain kinase (MLCK) are key enzymes in smooth muscle contraction. Previous data have suggested that ROCK contribution to human detrusor contraction is increasing with age. Here, we have analyzed the transcriptional expression of Rho kinase isoforms (ROCK1 and ROCK2) as well as MLCK in the aging human detrusor smooth muscle obtained from resected tissue.
Methods
Small pieces of macroscopically healthy human detrusor smooth muscle (urothelium-free) were prepared for quantitative real-time reverse transcriptase polymerase chain reaction (RT-PCR). Transcript expression (mRNA level) of the target genes ROCK1, ROCK2 and MLCK was normalized to three common reference genes (glyceraldehyde-3-phosphate dehydrogenase, β-actin, phosphoglycerate kinase 1).
Results
We found that across all ages the expression level of ROCK (i.e. ROCK1 and ROCK2 together) was almost equal to that of MLCK in the human bladder. Further, ROCK2 showed a significantly higher expression level than ROCK1. Among all subjects, there was no significant correlation of any single target gene to age, but expression levels of ROCK and MLCK were inversely correlated. Moreover, the within-subject analysis revealed that the ROCK-to-MLCK ratio showed a significantly negative correlation to age. Thus, within a given subject, there is a relative ROCK down-regulation and concomitant MLCK up-regulation.
Conclusions
Together with previous data in human detrusor specimens showing increased ROCK contribution to detrusor contraction, we speculate that the drop of the ROCK-to-MLCK ratio may occur as an attempt to compensate for the increased Rho kinase activity.