01.08.2011 | Research article | Ausgabe 4/2011 Open Access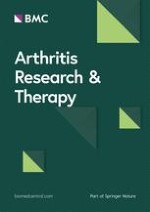 Investigating a pathogenic role for TXNDC5 in rheumatoid arthritis
Zeitschrift:
Autoren:

Xiaotian Chang, Yan Zhao, Xinfeng Yan, Jihong Pan, Kehua Fang, Lin Wang
Wichtige Hinweise
Electronic supplementary material
The online version of this article (doi:
10.​1186/​ar3429
) contains supplementary material, which is available to authorized users.
Competing interests
The authors declare that they have no competing interests.
Authors' contributions
XC designed and executed the study and prepared the manuscript. JP and KF performed the genotyping. YZ and LW performed the Western blots and real time PCR. XY collected tissue samples. All authors have read and approved the final manuscript for publication.
Abstract
Introduction
Expression of TXNDC5, which is induced by hypoxia, stimulates cell proliferation and angiogenesis. Our previous study detected increased TXNDC5 expression in the synovial tissues of rheumatoid arthritis (RA) patients using proteomic methods. The current study investigated a pathogenic role for TXNDC5 in RA.
Method
Expression of TXNDC5 in synovial membranes was quantitatively analyzed by immunohistochemistry, Western blotting and real-time polymerase chain reaction (PCR). Serum TXNDC5 levels and serum anti-TXNDC5 antibody levels were determined using sandwich enzyme-linked immunosorbent assay (ELISA). A total of 96 single nucleotide polymorphisms (SNPs) in or near the TXNDC5 gene were genotyped using custom-designed Illumina 96-SNP VeraCode microassay. Allele frequencies and genotype frequencies of SNPs were assessed using a case-control design in a cohort of 267 Chinese patients with RA, 51 patients with ankylosing spondylitis (AS) and 160 healthy controls. Additional genotyping of 951 patients with RA and 898 healthy controls was performed for four SNPs (rs2277105, rs369086, rs443861 and rs11962800) using the TaqMan method.
Results
Real-time PCR, Western blotting and immunohistochemistry detected significantly higher TXNDC5 expression in the synovial tissues of RA patients compared to samples from patients with osteoarthritis (OA) or AS. ELISA detected significantly higher levels of TXNDC5 in the blood of RA patients compared to OA, AS and systemic lupus erythematosus patients, and healthy controls. ELISA did not detect significantly different levels of anti-TXNDC5 antibody in the blood of RA, OA and AS patients and healthy controls. A total of 9 SNPs (rs9505298, rs41302895, rs1225936, rs1225938, rs372578, rs443861, rs408014, rs9392189 and rs2743992) showed significant association with RA, while 16 SNPs (rs1044104, rs1225937, rs1225938, rs372578, rs89715, rs378963, rs1225944, rs1225947, rs1238994, rs369086, rs408014, rs368074, rs1225954, rs1225955, rs13209404 and rs3812162) showed significant association with AS. Taqman SNP assay demonstrated that rs443861 has an association with RA, which correlates with the microassay results.
Conclusions
TXNDC5 is up-regulated in synovial tissues of RA patients. TXNDC5 has a genetic effect on the risk of RA and AS.