01.12.2018 | Research article | Ausgabe 1/2018 Open Access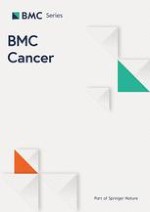 Investigation of the
SLC22A23

gene in laryngeal squamous cell carcinoma
Zeitschrift:
Autoren:

Seda Ekizoglu, Didem Seven, Turgut Ulutin, Jalal Guliyev, Nur Buyru
Abstract
Background
Laryngeal squamous cell carcinoma (LSCC) is the second most common cancer of the head and neck. In order to identify differentially expressed genes which may have a role in LSCC carcinogenesis, we performed GeneFishing Assay. One of the differentially expressed genes was the
SLC22A23
(solute carrier family 22, member 23) gene.
SLC22A23 belongs to a family of organic ion transporters that are responsible for the absorption or excretion of many drugs, xenobiotics and endogenous compounds in a variety of tissues. SLC22A23 is expressed in a various tissues but no substrates or functions have been identified for it. Although the exact function is unknown, single nucleotide polymorphisms (SNPs) which are located in
SLC22A23
gene were associated with inflammatory bowel disease (IBD), endometriosis-related infertility and the clearance of antipsychotic drugs. On the other hand
SLC22A23
is identified as a prognostic gene to predict the recurrence of triple-negative breast cancer.
Methods
To understand the role of the
SLC22A23
gene in laryngeal carcinogenesis, we investigated its mRNA expression level in laryngeal tumor tissue and adjacent non-cancerous tissue samples obtained from 83 patients by quantitative real-time PCR. To understand the association between SNPs in
SLC22A23
and LSCC, selected genetic variations (rs4959235, rs6923667, rs9503518) were genotyped.
Results
We found that
SLC22A23
expression was increased in 46 of 83 tumor tissues (55.4%) and was decreased in 30 of 83 (36.1%) tumor tissues compared to normal tissues. 77.2% of patients were homozygote for genotype rs9503518-AA and they most frequently had histological grade 2 and 3 tumors. We also found that rs9503518-AA genotype is associated with increased
SLC22A23
expression.
Conclusions
Our results indicate that
SLC22A23
may play a role in the development of laryngeal cancer.