01.12.2014 | PHASE I STUDIES | Ausgabe 6/2014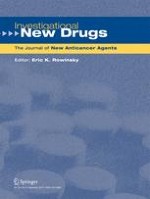 Investigational Aurora A kinase inhibitor alisertib (MLN8237) as an enteric-coated tablet formulation in non-hematologic malignancies: Phase 1 dose-escalation study
Zeitschrift:
Autoren:

Gerald Falchook, Razelle Kurzrock, Launce Gouw, David Hong, Kimberly A. McGregor, Xiaofei Zhou, Hongliang Shi, Howard Fingert, Sunil Sharma
Summary
Background
This phase 1b study evaluated an enteric-coated tablet (ECT) formulation of the investigational Aurora A kinase inhibitor, alisertib (MLN8237).
Methods
Patients with advanced, non-hematologic malignancies received oral alisertib ECT for 7 d BID followed by 14 d treatment-free (21-day cycles; 3 + 3 dose escalation schema). Objectives were to assess safety, pharmacokinetics, and antitumor activity, and to define a recommended phase 2 dose (RP2D) of alisertib.
Results
24 patients were treated. Median age was 57 years. Patients received a median of 2 cycles (range 1–12). The RP2D was determined as 50 mg BID for 7 d (21-day cycles). A cycle 1 dose-limiting toxicity of grade 4 febrile neutropenia was observed in 1 of 13 patients at RP2D. The most common drug-related adverse event (AE) was neutropenia (50 %). At doses ≥40 mg BID, 7 patients had drug-related AEs that were serious but largely reversible/manageable by dose reduction and supportive care, including 3 with febrile neutropenia. Pharmacokinetic data were available in 24 patients. Following administration of alisertib ECT, the plasma peak concentration of alisertib was achieved at ~3 h; systemic exposure increased with increasing dose over 10–60 mg BID. Mean t
½
was ~21 h following multiple dosing. Renal clearance was negligible. Nine patients achieved stable disease (3.98*, 5.59, 1.28*, 2.56, 5.45*, 3.48, 3.15, 8.31, and 6.93* months; *censored).
Conclusions
Alisertib ECT was generally well tolerated in adults with advanced, non-hematologic malignancies. The RP2D is 50 mg BID for 7 d and is being evaluated in ongoing phase 2 studies.