01.12.2012 | Research article | Ausgabe 1/2012 Open Access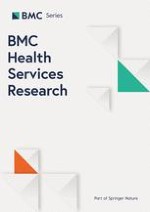 Involving expert patients in antiretroviral treatment provision in a tertiary referral hospital HIV clinic in Malawi
Zeitschrift:
Autoren:

Lyson Tenthani, Fabian Cataldo, Adrienne K Chan, Richard Bedell, Alexandra LC Martiniuk, Monique van Lettow
Wichtige Hinweise
Competing interest
The expert patient program at the time of study was funded by Paediatric AIDS Treatment for Africa.
Authors' contributions
Conceived and designed the study: LT, MvL; Implemented the intervention: AKC; Conducted the study: LT; Analyzed the data: LT; Wrote the paper: LT, MvL, FC, AKC, AM; Critically reviewed the manuscript; AKC, RB, AM. All authors approved the final manuscript.
Abstract
Background
Current antiretroviral treatment (ART) models in Africa are labour intensive and require a high number of skilled staff. In the context of constraints in human resources for health, task shifting is considered a feasible alternative for ART service delivery. In 2006, Dignitas International in partnership with the Malawi Ministry of Health trained a cadre of expert patients at the HIV Clinic at a tertiary referral hospital in Zomba, Malawi. Expert patients were trained to assist with clinic tasks including measurement of vital signs, anthropometry and counseling.
Methods
A descriptive observational study using mixed methods was conducted two years after the start of program implementation. Semi-structured interviews were conducted with 20 patients, seven expert patients and six formal health care providers to explore perceptions towards the expert patients' contributions in the clinic. Structured exit interviews with 81 patients, assessed whether essential ART information was conveyed during counseling sessions. Vital signs and anthropometry measurements performed by expert patients were repeated by a nurse to assess accuracy of measurements. Direct observations quantified the time spent with each patient.
Results
There were minor differences in measurement of patients' weight, height and temperature between the expert patients and the nurse. The majority of patients exiting a counseling session reported, without prompting, at least three side effects of ART, correct actions to be taken on observing a side-effect, and correct consequences of non-adherence to ART. Expert patients carried out 368 hours of nurse tasks each month, saving two and a half full-time nurse equivalents per month. Formal health care workers and patients accept and value expert patients' involvement in ART provision and care. Expert patients felt valued by patients for being a 'role model', or a 'model of hope', promoting positive living and adherence to ART.
Conclusions
Expert patients add value to the ART services at a tertiary referral HIV clinic in Malawi. Expert patients carry out shifted tasks acceptably, saving formal health staff time, and also act as 'living testimonies' of the benefits of ART and can be a means of achieving greater involvement of People Living with HIV in HIV treatment programs.