01.03.2015 | Original Article | Ausgabe 1/2015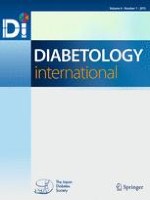 Ipragliflozin improves glycemic control in Japanese patients with type 2 diabetes mellitus: the BRIGHTEN study
BRIGHTEN: double-blind randomized study of ipragliflozin to show its efficacy as monotherapy in T2DM patients
Zeitschrift:
Autoren:

Atsunori Kashiwagi, Kenichi Kazuta, Yuusuke Takinami, Satoshi Yoshida, Atsushi Utsuno, Itsuro Nagase
Wichtige Hinweise
Results of this study were presented as an oral presentation at the 47th Annual Meeting of the European Association for the Study of Diabetes (EASD), Lisbon, Portugal (September 12–16, 2011).
ClinicalTrials.gov identifier: NCT01057628.
Abstract
Ipragliflozin is a sodium–glucose co-transporter 2 inhibitor under clinical development for treating type 2 diabetes mellitus (T2DM). In this Phase 3, multicenter, randomized, double-blind, placebo-controlled, parallel-group study, 129 Japanese patients with T2DM were randomized to either 50 mg ipragliflozin (
n
= 62) or placebo (
n
= 67) once daily for 16 weeks. Hemoglobin A1c (HbA1c) levels decreased significantly from baseline to the end of treatment in the ipragliflozin group (−0.76 %) but increased in the placebo group (+0.54 %), resulting in a placebo-adjusted mean change from baseline of −1.24 % (
P
< 0.001). Fasting plasma glucose (FPG) levels also decreased significantly in the ipragliflozin group (−40.2 mg/dL) but not in the placebo group (+6.3 mg/dL). The changes in body weight (−2.31 kg vs. −1.03 kg,
P
< 0.001) and waist circumference (−1.61 cm vs. −0.41 cm,
P
= 0.028) from baseline to the end of treatment were significantly greater in the ipragliflozin group than in the placebo group. Treatment-emergent adverse events occurred in 53.2 % and 59.7 % of patients in the ipragliflozin and placebo groups, respectively. All of the events were mild to moderate in severity. Hypoglycemia (ipragliflozin vs. placebo 1.6 % vs. 0 %), genital infections (3.2 % vs. 0 %), and urinary tract infection (0 % vs. 1.5 %) were rare. In conclusion, treatment with 50 mg ipragliflozin once daily for 16 weeks achieved significant improvements in HbA1c, FPG, body weight, and waist circumference compared with placebo in Japanese patients with T2DM. Ipragliflozin was well tolerated with low rates of genital infection and hypoglycemia.