31.07.2018 | Original Article | Ausgabe 3/2019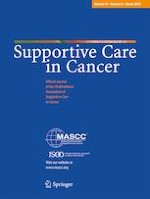 Irinotecan-induced neutropenia is reduced by oral alkalization drugs: analysis using retrospective chart reviews and the spontaneous reporting database
Zeitschrift:
Autoren:

Hirofumi Hamano, Marin Mitsui, Yoshito Zamami, Kenshi Takechi, Takahiro Nimura, Naoto Okada, Keijo Fukushima, Masaki Imanishi, Masayuki Chuma, Yuya Horinouchi, Yuki Izawa-Ishizawa, Yasushi Kirino, Toshimi Nakamura, Kazuhiko Teraoka, Yasumasa Ikeda, Hiromichi Fujino, Hiroaki Yanagawa, Toshiaki Tamaki, Keisuke Ishizawa
Wichtige Hinweise
Electronic supplementary material
Hirofumi Hamano and Marin Mitsui contributed equally to this work.
Abstract
Purpose
SN-38, an active metabolite of irinotecan, is reabsorbed by the intestinal tract during excretion, causing diarrhoea and neutropenia. In addition, the association between blood levels of SN-38 and neutropenia has been reported previously, and the rapid excretion of SN-38 from the intestinal tract is considered to prevent neutropenia. Oral alkalization drugs are used as prophylactic agents for suppressing SN-38 reabsorption. The relationship between oral alkalization drugs and neutropenia, however, has not been well studied. The aim of this study was to investigate the relationship between oral alkalization drugs and neutropenia in irinotecan-treated patients.
Methods and results
Patients with cervical or ovarian cancer were administered irinotecan and investigated by medical chart reviews to determine whether oral alkalization drugs were effective at ameliorating irinotecan-induced neutropenia. The drug combination in the oral alkalization drugs—ursodeoxycholic acid, magnesium oxide, and sodium hydrogen carbonate—significantly improved neutrophil counts and reduced dose intensity compared with those of non-users. In the large-scale Japanese Adverse Drug Event Report database, the reporting odds ratio of irinotecan-induced neutropenia was significantly lower when irinotecan had been given in combination with oral alkalization drugs.
Conclusions
These data indicate that oral alkalization drugs may reduce the frequency of neutropenia caused by irinotecan administration, making it possible to increase the dose safely.