18.12.2017 | Original Contributions | Ausgabe 6/2018 Open Access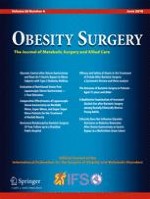 Is Bariatric Surgery a Prophylaxis for Pelvic Floor Disorders?
Zeitschrift:
Autoren:

Andrzej Pomian, Wojciech Majkusiak, Wojciech Lisik, Paweł Tomasik, Edyta Horosz, Aneta Zwierzchowska, Jacek Kociszewski, Ewa Barcz
Abstract
Introduction
Obesity is one of the well-documented risk factors of pelvic floor disorders (PFDs). The PFDs include urinary and fecal incontinence (UI, FI) and pelvic organ prolapse (POP). Surgery-induced weight loss improves different kinds of incontinence as well as POP symptoms. However, there is a lack of evidence how bariatric surgery influences pelvic floor anatomy and function in women without previous PFDs and whether it may be concerned as PFD prophylaxis tool.
Materials and Methods
The present analysis is a prospective, non-randomized case-control study from January 2014 to September 2017. Participants underwent pelvic floor ultrasound examination with bladder neck position estimation at rest, during levator ani tension, and at Valsalva maneuver before surgery and 12–18 months after. Pelvic organ prolapse quantification (POPQ) > 2 stage and PFD complaints were the exclusion criteria.
Results
Fifty-nine patients underwent bariatric surgery (57 sleeve gastrectomy and 2 gastric bypass). Mean BMI decreased from 43.8 ± 5.9 to 29 ± 4.6 kg/m
2
after surgery (
p
 < 0.001). Statistically significant higher position of the bladder neck at rest, during tension, and at Valsalva maneuver (
p
 < 0.05) was shown after surgery. We did not demonstrate differences in bladder neck mobility and bladder neck elevation at tension after weight loss.
Conclusions
Bariatric surgery is associated with a betterment of bladder neck position at rest, tension, and Valsalva maneuver in women without PFDs. We postulate that bariatric surgery may be a tool for PFD prevention. It does not improve levator ani function and does not limit bladder neck mobility, which implicates that it has no influence on preexisting pelvic dysfunction.