08.11.2019 | Original Article | Ausgabe 12/2019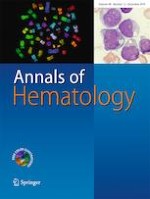 Is bendamustine-rituximab a reasonable treatment in selected older patients with diffuse large B cell lymphoma? Results from a multicentre, retrospective study
Zeitschrift:
Autoren:

Vanja Zeremski, Kathleen Jentsch-Ullrich, Christoph Kahl, Martin Mohren, Judith Eberhardt, Thomas Fischer, Enrico Schalk
Wichtige Hinweise
Publisher's note
Springer Nature remains neutral with regard to jurisdictional claims in published maps and institutional affiliations.
Abstract
Despite bendamustine-rituximab (BR) showed disappointing efficacy in diffuse large B cell lymphoma (DLBCL), it is still occasionally used as first-line treatment in older DLBCL patients instead of recommended R-CHOP. This multicentre, retrospective study was aimed to clarify circumstances in which BR may be justified in this setting. Patients ≥ 65 years with ECOG performance status (PS) ≥ 2 or ≥ 75 years regardless of PS were included. A total of 140 patients were analysed (BR, 68; R-CHOP, 72). BR patients were older (
p
< 0.001) and were diagnosed more often with high-risk disease (
p
= 0.03); no difference regarding comorbidities or PS was seen. Compared with R-CHOP, BR was associated with marked inferior overall survival (OS) (16.3 vs. 75.4 months;
p
= 0.006) and progression-free survival (PFS) (11.0 vs. 62.3 months;
p
< 0.001). In multivariate analysis, only high age-adjusted Charlson Comorbidity Index (aaCCI) was associated with inferior PFS in R-CHOP patients (hazard ratio 2.67;
p
= 0.012). Comparing the subgroup of BR and R-CHOP patients with high aaCCI, there was no difference in OS (
p
= 0.73) or PFS (
p
= 0.75). Due to the observed non-superiority of R-CHOP in older DLBCL patients with comorbidities, we propose that this subgroup may be treated alternatively with BR, whereas all other older patients are clearly R-CHOP candidates.