08.05.2019 | Original Article - CSF Circulation | Ausgabe 7/2019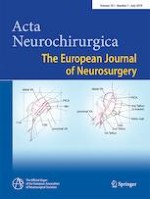 Is endoscopic third ventriculostomy safe and efficient in the treatment of obstructive chronic hydrocephalus in adults? A prospective clinical and MRI study
Zeitschrift:
Autoren:

Marc Baroncini, Gregory Kuchcinski, Vianney Le Thuc, Philippe Bourgeois, Henri Arthur Leroy, Guillaume Baille, Thibaud Lebouvier, Luc Defebvre
Wichtige Hinweise
This article is part of the Topical Collection on
CSF Circulation
The authors report on 15 adult patients with chronic obstructive hydrocephalus who underwent endoscopic third ventriculostomy (ETV). Over a mean follow up period of almost 18 months, 14 showed significant improvement in gait and cognition, as assessed by the Larsson's score and MMSE respectively. There was also an improvement in radiological parameters, including the size of the third ventricle. Interestingly, over the follow up period, the authors did not see any deterioration. This is different from the commoner NPH cohort, where an early improvement following CSF diversion is often followed by a late deterioration. The authors conclude that the distinction between normal pressure hydrocephalus and chronic obstructive hydrocephalus is important; it mandates careful MR examination prior to treatment and allows the consideration of ETV rather than shunt.
Although this is not a new concept, the authors have treated these patients consistently and followed them up assiduously. The follow-up is relatively short for a chronic condition, and this remains a limitation of the study, which the authors acknowledge.
Kristian Aquilina
London, UK
Publisher's note
Springer Nature remains neutral with regard to jurisdictional claims in published maps and institutional affiliations.
Abstract
Background
In case of suspected normal pressure hydrocephalus, MRI is performed systematically and can sometimes highlight an obstruction of the flow pathways of the CSF (aqueductal stenosis or other downstream obstruction). It seems legitimate for these patients to ask the question of a treatment with endoscopic third ventriculostomy (ETV), even if the late decompensation of an obstruction may suggest an association with a CSF resorption disorder. The aim of this study was to evaluate clinical and radiological evolution after ETV in a group of elderly patients with an obstructive chronic hydrocephalus (OCH).
Methods
ETV was performed in 15 patients with OCH between 2012 and 2017. Morphometric (callosal angle, ventricular surface, third ventricular width, and Evans' index) and velocimetric parameters (stroke volume of the aqueductal (SVa) CSF) parameters were measured prior and after surgery with brain MRI. The clinical score (mini-mental status examination (MMSE) and the modified Larsson's score, evaluating walking, autonomy, and incontinence) were performed pre- and postoperatively.
Results
SVa was less than 15 μL/R-R in 12 out of the 15 patients; in the other three cases, the obstruction was located at a distance from the middle part of the aqueduct. Fourteen out of 15 patients were significantly improved: mean Larsson's score decreased from 3.8 to 0.6 (
P
 ≤ 0.01) and mean MMSE increased from 25.7 to 28 (
P
 = 0.084). Evans' index and ventricular area decreased postoperatively and the callosal angle increased (
P
 ≤ 0.01). The mean follow-up lasted 17.9 months. No postoperative complications were observed.
Conclusion
ETV seems to be a safe and efficient alternative to shunt for chronic hydrocephalus with obstruction; the clinical improvement is usual and ventricular size decreases slightly.