01.12.2017 | Review | Ausgabe 1/2017 Open Access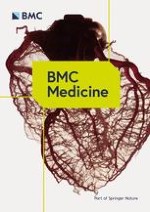 Is Graves' disease a primary immunodeficiency? New immunological perspectives on an endocrine disease
Zeitschrift:
Autoren:

Tristan Struja, Alexander Kutz, Stefan Fischli, Christian Meier, Beat Mueller, Mike Recher, Philipp Schuetz
Background
Primary immunodeficiency diseases (PIDs) are genetically determined diseases impacting the normal function of the immune system due to mutations in immune system genes. More than 250 PID entities have been defined to date, with the number rapidly evolving. Many patients with a PID show their first clinical manifestation in adulthood and, in some patients, the PID is never diagnosed since it is not searched for. PIDs may clinically manifest in both childhood or adulthood and patients may present with a susceptibility to infection. However, a significant number of PID patients present with autoimmune disease (AID) alone. The association of PIDs with AIDs is mechanistically complex and multifactorial (Table
1
) [
1
]. The clinical penetrance of PID-associated gene mutations is far below 100% and novel mutations may occur during spermatogenesis or during oogenesis, implying that lack of a familial history does not argue against PIDs in a patient with autoimmunity.
Table 1
Interplay of autoimmunity and immunodeficiency regarding Graves' disease
Primary immunodeficiency

Phenotype

Involved cell types

Protein/Synapse

Gene

Mechanism

Association with Graves' disease

Reference

Selective IgA deficiency

Celiac disease, type 1 diabetes mellitus, impaired mucosal defense, most common PID

B cells

Granulocytes

Ligation with its receptor (FcαRI) leads to ADCC, granulocyte degranulation, phagocytosis and neutrophil oxidative burst

Most commonly HLA haplotype 8.1

Ligation with its receptor (FcαRI) leads to ADCC, granulocyte degranulation, phagocytosis and neutrophil oxidative burst

++

Severe combined immunodeficiency

Recurrent infections, vitiligo, atopic dermatitis, ITP, AH, AITD

T cells

Low expression of T cell receptor

CD3γ gene

Impaired negative selection in thymus

+

Autoimmune lymphoproliferative syndrome

Autoimmunity and polyclonal lymphocyte accumulation with lymphadenopathy and splenomegaly

T cells

Intra-thymic apoptosis via FASL to its receptor FAS (CD95) and subsequent activation of caspases 8 and 3 with impaired T cell apoptosis

Heterogeneous mutations of FAS signaling pathway

(1) Molecular mimicry or

(2) Slowing down of apoptosis and/or exposure of apoptosis related autoantigens

+

IPEX syndrome

Immune dysregulation (eczema), polyendocrinopathy (T1DM), enteropathy

Treg cells Thymus

Loss of essential transcription factor

FOXP3 on X chromosome

Greatly reduced Treg cell number

++

IPEX-like

IPEX-like phenotype

Treg cells

IL-2-receptor-α chain (CD25)

CD25 deficiency due to autosomal recessive mutations

Normal Treg in numbers but deficient stimulation by defective IL-10 expression

+/–

Common variable immunodeficiency

Various autoimmune diseases (ITP, AIHA, psoriasis, AITD, arthritis) and antibody deficiencies,organ infiltration (bone marrow, kidney, brain, liver, spleen) by granulomatous-lymphocytic infiltration

APCs

Treg cells

B cells

Naïve T cells

CTLA-4 binds to CD80/CD86 (B7) on APCs, leading to lower levels of co-stimulatory B7, failure to activate CD28 (the ligand for B7) on T cells

CTLA-4 germline mutations with incomplete penetrance

Treg cells increased, but dysfunctional (decreased CTLA-4 ligand binding)

+

Systemic lupus erythematosus -like

Recurrent infections; cutaneous, discoid lupus most common presentation, malar rash, oral ulcers, recurrent fever and vasculitis

Macrophages

Apoptotic B cells

MFG-E8 (mice) and complement factor C1q

Homozygous nonsense and missense mutations on chromosome 1p (C1q)

Impaired debris removal,

autoantibodies against C1q correlates with thyroid function in AITD

+

Common variable immunodeficiency

See above

APCs

Treg cells

B cells

naïve T cells

BAFF

BAFF-R P21R variant

BAFF (SNPs rs1041569 & rs2893321)P21R (TNF-RSF13C allele)

Higher levels stimulate B cell survival, increase of TR antibody levels

++

Hyper-IgM syndrome

Elevated serum IgM, but deficiency in IgG/A/E, recurrent respiratory and gastrointestinal infections with pyogenic bacteria and opportunistic organisms (e.g.,

P. jirovecii

)

APCs

T cells

B cells

Thyrocytes

CD40

Autosomal recessive CD40 gene mutations

Upregulation of CD40 on thyrocytes, increased co-stimulatory effects and immunoglobulin class switching

+

Common variable immunodeficiency

See above

APCs

Treg cells

B cells

Naïve T cells

Miscellaneous

Decreased methylation of various genes

Higher ICAM-1, decreased B cell class switching

+/–

Skewed X-chromosome inactivation

Wiskott–Aldrich syndrome: PID with eczema, thrombocytopenia, and diarrhea

Thymus

T cells

B cells

Miscellaneous

Genes for Wiskott–Aldrich syndrome protein, CD40L or the IL-2 receptor-

\( \gamma \)

chain

Reduced thymic expression of X chromosome-dependent self-antigens primes inadequate T cell apoptosis

++

Trisomy 21

Down syndrome: increased susceptibility to leukemia, but reduced incidence of solid tumors

Thymus T cells

IFN-γ

AIRE and FOXP3 on X chromosome

Increased production of IFN-γ with augmented Th1 responses

Reduced activity of Treg cells

++
Main text
Discussion
Summary of evidence
Although there has been extensive research on the etiology of GD in the last decades, it has not been possible to identify a single causative agent, likely reflecting the fine balance between anergy and autoimmunity challenging our immune system throughout life.
Genetic influences have been extensively studied. Disappointingly, effect sizes of genetic predictors remain rather weak, with ORs of approximately 2, albeit with HLA-loci being the strongest. In a recent systematic review, we summarized the different genetic susceptibility factors [
122
]. Environmental influences seem to account for approximately 20% of the disease susceptibility. A modification of risk factors before disease onset would require a public health interventions and is unlikely to be accomplished. On the other hand, specific interventions altering environmental influences after onset may be beneficial in ameliorating disease course. Influences of overlapping factors, such as antibodies and cytokines, are hard to quantify. Nonetheless, they might offer a valuable link between the genetic and environmental factors as they are the most amenable to modification.
A diverse and multi-faceted etiology is more likely than a single causative agent, reflecting GD as a heterogeneous syndrome harboring elements of both immunodeficiency and autoimmunity. Consequently, future therapeutic strategies must consider multiple approaches to tackle this condition.
Therapeutic outlook
Conclusions
Emerging evidence suggests that AIDs and diseases of immunodeficiency are not two distinct phenomena, but are in fact two sides of the same coin. This relationship has been repeatedly established in monogenetic diseases as IPEX (FOXP3 mutations) and in autoimmune polyendocrine syndrome type 1 (AIRE mutations). Moreover, polygenetic AIDs such as CVID or IgA-deficiency also exhibit multiple autoimmune phenomena, resulting in SLE, rheumatoid arthritis, and enteropathy. Thus, we believe that patients with GD in fact have either a genetically determined or secondarily acquired immunodeficiency that results in autoimmunity once certain triggering events occur.
Whereas both morbidity and mortality are high in other AIDs, GD is clinically much less severe. This being the case, there has been no urgent need for advances in the therapeutic regimen. Nonetheless, we believe that the current treatment approaches have a lack of specificity and can have undesired consequences (e.g., persistent hypoparathyroidism and laryngeal palsy in surgery or worsening of Graves' orbitopathy in radioactive iodine treatment). There is thus a need for concerted efforts that warrant further investments.
Acknowledgments
Editorial review was performed by Prasad Kulkarni, PhD, CMPP of Asclepius Medical Communications LLC, Ridgewood, New Jersey, USA, and was funded by the authors.
Funding
This study was supported in part by the Swiss National Science Foundation (SNSF Professorships for PS PP00P3_150531/1 and MR PP00P3_144863) and the Research Council of the Kantonsspital Aarau (1410.000.044). Funders had no role in the design, analysis, or writing of this article.
Availability of data and materials
Data sharing is not applicable to this article as no datasets were generated or analyzed during the current study.
Ethics approval and consent to participate
Not applicable
Consent for publication
Not applicable
Competing interests
All authors declare they have no competing interest.
Open Access
This article is distributed under the terms of the Creative Commons Attribution 4.0 International License (
http://​creativecommons.​org/​licenses/​by/​4.​0/​
), which permits unrestricted use, distribution, and reproduction in any medium, provided you give appropriate credit to the original author(s) and the source, provide a link to the Creative Commons license, and indicate if changes were made. The Creative Commons Public Domain Dedication waiver (
http://​creativecommons.​org/​publicdomain/​zero/​1.​0/​
) applies to the data made available in this article, unless otherwise stated.