01.12.2017 | Research | Ausgabe 1/2017 Open Access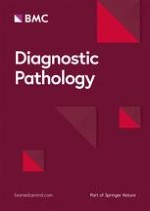 Is hematoxylin-eosin staining in rectal mucosal and submucosal biopsies still useful for the diagnosis of Hirschsprung disease?
Zeitschrift:
Autoren:

Suellen Serafini, Maria Mercês Santos, Ana Cristina Aoun Tannuri, Maria Claudia Nogueira Zerbini, Maria Cecília de Mendonça Coelho, Josiane de Oliveira Gonçalves, Uenis Tannuri
Abstract
Background
Hematoxylin-eosin (HE) staining of a full-thickness rectal wall fragment is classically used for the diagnosis of Hirschsprung disease (HD). However, this technique requires large fragments for a better diagnosis. Additionally, the histochemical and immunohistochemical methods of staining small fragments of rectal mucosal and submucosal biopsies are not available in all centers. Therefore, the possibility of diagnosing HD through HE staining in these biopsies could be a valuable alternative for centers that do not have more specific techniques. The objectives of the current investigation were to evaluate the concordance of the results obtained by HE staining and the calretinin method with acetylcholinesterase (AChE) activity in fragments of mucosa and submucosa in the diagnosis of HD.
Methods
For this study, 50 cases from our laboratory were selected. The tissue material was embedded in paraffin. Sixty levels of each fragment were utilized for HE, and the other 3 levels were used for calretinin. These slides were analyzed under the microscope, photographed and classified as either positive for HD when no ganglion cells were found with nerve trunks present or as negative when ganglion cells were found. The results from reading the slides were compared with those of AChE.
Results
Of the 50 cases evaluated by the HE technique, only 5 contradicted the diagnosis based on AChE, with a Kappa value of 0.800 and an accuracy of 90%. In the comparison between calretinin and AChE, 8 cases were discordant, with a Kappa value of 0.676 and an accuracy of 84%.
Conclusions
The concordance of results from AChE and HE methods was satisfactory, allowing for the potential use of the HE method for fragments of mucosa and submucosa as a valid alternative in the diagnosis of HD. The immunohistochemical technique of calretinin did not show good agreement with the AChE activity in our study.