01.02.2014 | Symposium: 2013 Hip Society Proceedings | Ausgabe 2/2014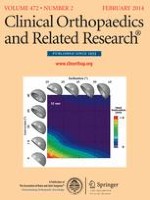 Is Intraarticular Pathology Common in Patients With Hip Dysplasia Undergoing Periacetabular Osteotomy?
Zeitschrift:
Autoren:

MD Benjamin G. Domb, MD Justin M. Lareau, MD Hasan Baydoun, MD Itamar Botser, MD Michael B. Millis, MD, PhD Yi-Meng Yen
Wichtige Hinweise
Each author certifies that he or she, or a member of his or her immediate family, has no funding or commercial associations (eg, consultancies, stock ownership, equity interest, patent/licensing arrangements, etc) that might pose a conflict of interest in connection with the submitted article.
All ICMJE Conflict of Interest Forms for authors and
Clinical Orthopaedics and Related Research
editors and board members are on file with the publication and can be viewed on request.
Each author certifies that his or her institution approved the human protocol for this investigation, that all investigations were conducted in conformity with ethical principles of research, and that informed consent for participation in the study was obtained.
This work was performed at Boston Children's Hospital (Boston, MA, USA) and the Hinsdale Hospital (Hinsdale, IL, USA).
Abstract
Background
Periacetabular osteotomy (PAO) enables correction of bony acetabular deficiency in the setting of hip dysplasia. Patients with insufficient acetabular coverage often have intraarticular pathology, but the degree of this pathology has been incompletely characterized. We have used arthroscopy as an adjunct to PAO to further delineate intraarticular pathology in patients with hip dysplasia with mechanical symptoms.
Questions/purposes
We documented the arthroscopic incidence of (1) femoral and acetabular chondral pathology, (2) femoral neck cam lesions, and (3) internal snapping or ligamentum teres pathology among patients having arthroscopy before PAO.
Methods
We reviewed all 16 patients (17 hips; mean age at surgery, 21 years; range, 12–33 years) with hip dysplasia who underwent PAOs and concomitant hip arthroscopy at our institutions from October 2010 to March 2012. During this period, 80 patients underwent PAOs, making the arthroscopic cohort 21% of the total cohort. Indications for concomitant hip arthroscopy were mechanical symptoms consistent with labral pathology identified on MRI. We documented pathology involving the labrum, chondral surface, ligamentum teres, cam deformity, and psoas tendon.
Results
Arthroscopy revealed significant intraarticular pathology in all patients. Fourteen hips had anterosuperior labral tears, and three hips had preoperative findings of internal snapping hip. Eleven hips had femoral cam-type lesions in addition to dysplasia, and 16 hips had articular chondral injury. Two hips had full-thickness ligamentum tears, and 13 hips had partial-thickness tears.
Conclusions
Intraarticular pathology at the time of PAO is common. Future studies are needed to rigorously address the use of arthroscopic intervention during PAO and the impact on clinical outcome compared to PAO alone.
Level of Evidence
Level IV, diagnostic study. See Instructions for Authors for a complete description of levels of evidence.