05.11.2015 | Ausgabe 8/2016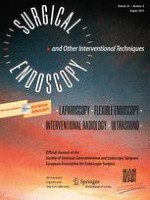 Is laparoscopic repair of incarcerated abdominal hernias safe? Analysis of short-term outcomes
Zeitschrift:
Autoren:

Ahmad Elnahas, Song Hon H. Kim, Allan Okrainec, Fayez Quereshy, Timothy D. Jackson
Wichtige Hinweise
Presented at the SAGES 2015 Annual Meeting, April 15–18, 2015, Nashville, Tennessee.
Disclaimer
American College of Surgeons National Surgical Quality Improvement Program and the hospitals participating in the ACS-NSQIP are the source of the data used herein; they have not verified and are not responsible for the statistical validity of the data analysis or the conclusions derived by the authors.
Abstract
Background
There is a paucity of literature surrounding the safety and feasibility of laparoscopic repair for acutely incarcerated abdominal hernias. The objective of this study was to compare the 30-day morbidity and mortality between laparoscopic and open repairs of incarcerated abdominal hernias.
Methods
A retrospective cohort study was conducted using data from the National Surgery Quality Improvement Program from 2005 to 2012. The study population was selected using ICD-9 diagnostic codes describing abdominal hernias with obstruction, but without gangrene. Cases with documented bowel resection were excluded. Group classification was based on CPT coding. Study outcomes included the 30-day major complication, reoperation and mortality rates. Multivariable logistic regression models were used to adjust for confounding for all study outcomes.
Results
A total of 2688 and 15,562 patients were in the laparoscopic and open group, respectively. After adjustment for clinically relevant confounders, laparoscopic surgery was associated with a significantly lower 30-day infectious (OR 0.36,
p
< 0.001, 95 % CI 0.23–0.56) and serious complication rates (OR 0.66,
p
< 0.001, 95 % CI 0.55–0.80). However, there was no statistical difference with respect to the 30-day reoperation (OR 0.81,
p
= 0.28, 95 % CI 0.56–1.18) or mortality rates (OR 0.94,
p
= 0.80, 95 % CI 0.58–1.53).
Conclusions
Patients with incarcerated abdominal hernias who underwent laparoscopic repair had a significantly lower 30-day morbidity compared to patients with open repair. Although the 30-day reoperation and mortality rates were also lower, there was no statistically significant difference. Laparoscopic surgery appears to be safe in the management of select incarcerated abdominal hernias.