01.12.2015 | Research article | Ausgabe 1/2015 Open Access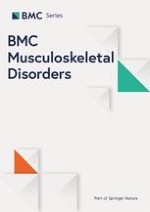 Is magnetic resonance imaging necessary in isolated greater trochanter fracture? A systemic review and pooled analysis
Zeitschrift:
Autoren:

Seung-Ju Kim, Joonghyun Ahn, Hyung Kook Kim, Jong Hun Kim
Wichtige Hinweise
Competing interests
The authors declare that they have no competing interests.
Authors' contributions
SJK conceived and led the study, contributed to the final interpretation, abstracted and arbitrated quality data, was the first reviewer, and wrote the first draft of the manuscript. JHA was the second reviewer, contributed to the final interpretation, abstracted quality data, and commented on successive versions of the manuscript. HHK contributed to the development of the coding framework and the final interpretation and produced the figures. JHK contributed to the study design, arbitrated studies for inclusion, and commented on successive drafts of the manuscript. All authors read and approved the final manuscript.
Abstract
Background
Isolated fractures of the greater trochanter (GT) of the femur are uncommon and few studies have assessed the diagnosis and appropriate therapeutic schedule for these fractures. The current data regarding assessment of isolated fractures of the GT are limited to a few reviews based on the experience of a single institution. Therefore, we asked the following questions: (1) what proportion of cases has an associated extension of the fracture into the intertrochanteric region in isolated GT fracture and (2) what are the treatment options and outcomes of GT fractures with occult intertrochanteric fractures.
Methods
We conducted a systematic review of published studies that evaluated patients who displayed isolated GT fracture on routine radiographic examination and underwent a magnetic resonance imaging (MRI) scan because of the suspicion of extension into the intertrochanteric region. A structured literature review of multiple databases (PubMed, EMBASE, CINAHL, and Cochrane systematic reviews) referenced articles from 1950 to 2015.
Results
A total of 110 patients were identified from 7 published studies. MRI documented isolated GT fractures diagnosed on initial radiographs in only 11 of 110 patients (10 %). In 99 patients (90 %), MRI examinations revealed extension of the fracture into the intertrochanteric region. Surgical fixation was necessary for 61 patients, with a pooled percentage of 55 %. No complications were observed after surgery.
Conclusions
Our study has helped to elucidate further the assessment of isolated fracture of the GT. We believe that MRI is a reasonable option for patients presenting with isolated GT fracture on plain radiographs.