19.03.2020 | Original Article | Ausgabe 3/2021 Open Access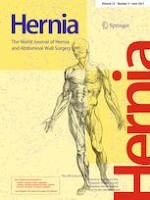 Is mesh always necessary in every small umbilical hernia repair? Comparison of standardized primary sutured versus patch repair: retrospective cohort study
Zeitschrift:
Autoren:

K. Mitura, M. Skolimowska-Rzewuska, A. Rzewuska, D. Wyrzykowska
Wichtige Hinweise
Publisher's Note
Springer Nature remains neutral with regard to jurisdictional claims in published maps and institutional affiliations.
Introduction
The use of mesh in ventral hernia repair is a commonly recognized procedure. An increasing number of studies indicate the need for mesh in the treatment of small umbilical hernias, which has been confirmed by recent guidelines [
1
]. Studies comparing the sutured repair and the mesh repair of small umbilical hernias indicate a significant reduction in recurrence following the use of synthetic material [
2
‐
4
]. Nevertheless, surgeons often still opt for sutured repair, particularly in cases of very small hernias [
5
‐
7
]. Therefore, there is doubt as to whether the uncritical use of mesh in all umbilical hernia cases is justified.
Analysis of the available literature reveals much ambiguity regarding the use of mesh in the repair of small umbilical hernias [
8
]. The use of 4.2-cm-diameter mesh was reported for the treatment of 2-cm-diameter hernias, which produced only a 1.15-cm margin; this margin is commonly considered to be insufficient for the safe management of the hernial orifice [
9
]. On the other hand, the use of ready-made patch-type mesh in the treatment of hernias as small as 0.5 cm in diameter has also been reported [
10
‐
12
]. It is impossible to introduce that type of mesh through such a small orifice, and yet no widening of the orifice was mentioned [
13
]. At the same time, in sutured repair analyses, no information is usually given regarding the method of suturing, e.g., continuous, interrupted, density, margin, absorption, direction, etc. [
14
‐
16
]. There is often no information regarding the accompanying diastasis recti [
17
]. All such methodological doubts make it difficult to assess how a hernia has been repaired and whether all methods of sutured repair offer similar results.
For this reason, this retrospective analysis was carried out to compare the results of patch repair using ready-made, synthetic mesh and sutured repair based on standard protocols. The cumulative recurrence rate was accepted as the primary outcome. Pain at rest and during exercise, cosmetic effect and treatment satisfaction were chosen as the secondary endpoints.
Materials and methods
Patients
Adult patients who underwent the elective, open surgical repair of a single, only primary, symptomatic umbilical hernia were included in the retrospective cohort study. Patients with incarceration or strangulation who underwent urgent surgical repair were excluded. Patients with incisional hernia were excluded. Patients with a history of previous umbilical hernia repair were excluded. Patients who underwent laparoscopic repair were excluded. Patients who underwent other abdominal surgical interventions after the umbilical hernia repair were excluded. Patients lost to follow-up (no contact, change of address, death) and patients not giving consent for participation in the study were excluded. Only patients with a hernial orifice less than 2 cm in diameter were analyzed.
All patients who underwent surgery between December 1st, 2015, and November 30th, 2019, were considered. The follow-up period was defined as the time from the surgical repair to recurrence or to the end of study date on December 31st, 2019.
Qualifications in the study
The final decision on the choice of surgical method was made by the operating surgeon. Prior to surgery the patient signed an informed consent allowing the operating surgeon to decide on the type of repair performed depending on the intraoperative circumstances. The form has been prepared according to the recommendations of a national surgical society. In the absence of combination of additional risk factors, including obesity or overweight, diastasis recti, the presence of other hernias, diabetes, smoking, and a history of surgical interventions in the vicinity of the umbilicus, a subjective decision for sutured repair was usually made [
18
]. Sutured repair was also performed in the case of a very narrow hernial orifice (< 1 cm), associated with the need to make the orifice wider to accommodate the mesh.
Procedure
All surgical procedures were performed under general anesthesia. Before the procedure, patients were given antibiotic prophylaxis, and the final choice of the surgical method was made by the surgeon during the course of the procedure. Drains were not used. No surgery involved widening of the hernial orifice.
An arched skin incision approximately 3–4 cm in length was made along the lower edge of the umbilicus. Then, the hernial sac was isolated and separated from the skin. The anterior lamella of the fascia was isolated and separated from subcutaneous adipose tissue over the radius of approximately 2 cm. In every case, the hernial sac was opened and its content was controlled. After the fascia was repaired, the subcutaneous tissue was sutured with transverse sutures cranially and caudally to the umbilicus, and the skin at the bottom of the umbilicus was anchored with a single suture to the fascia, thus recreating the bowl shape of the umbilicus.
Sutured repair
After dissecting the edges of the fascia, continuous sutures with prolonged absorption characteristics (MonoMax 0 or MonoPlus 0;
B. Braun
) were used. The fascia was sutured longitudinally, starting from the suture line 10 mm above the hernial orifice and ending it at the same distance below the orifice. Single-layer sutures were placed using the short-stitch technique, with a lateral margin of 5–7 mm and a distance of 4–6 mm between subsequent needle passages.
Patch repair
Mesh repair involved the use of the 6.3-cm-diameter Parietene Ventral Patch (
Medtronic
). As this polyester mesh is coated with collagen as the anti-adhesive layer, it may be placed intraperitoneally. Intraperitoneal mesh placement was used for all patients enrolled in the study who underwent mesh repair. Before mesh placement, the possible presence of intraperitoneal adhesions around the hernial orifice was controlled, and any adhesions present were excised. In patients with a thickened and rigid umbilical or sickle fold, the fold was separated from the linea alba to obtain a flat surface for mesh adherence. The mesh was equipped with two semicircular, rigid rings to facilitate its positioning. Four poles of the mesh were fixed to the fascia with single nonabsorbable sutures (Optilene 0;
B. Braun
). Then, the fascia was sutured using the same technique as that described for the sutured repair technique.
Outcomes
All operated patients provided information on their treatment through a phone questionnaire. Recurrence was the primary outcome. Patients reporting existing or suspected recurrence were additionally examined by an experienced surgeon and underwent a supplementary ultrasound examination. The presence of pain, determined according to the verbal rating scale (VRS; none 1; mild 2; moderate 3; severe 4), the cosmetic effect, and satisfaction with the received treatment were the secondary outcomes. Additionally, sex, BMI, the duration of the surgical procedure and the presence of postsurgical complications were determined based on medical files.
Statistical methods
Data are expressed as the mean ± standard deviation (SD) and range.
P
values < 0.05 were assumed statistically significant. Data were analyzed using Statistica 11.0 software (
StatSoft
). Continuous values were analyzed by
t
test, and Pearson's Chi squared test was used for categorized values.
Results
The characteristics of the patients are given in Table
1
. In all, 197 patients were operated on during the analyzed 4-year period, and 161 patients (57 underwent sutured repair and 104 underwent patch repair) who responded to the questionnaire (response ratio: 86%) were included in the study. A total of 26 patients were excluded as they were lost to follow-up (Fig.
1
). The mean postsurgical follow-up period was 22 months (range 1–49 months).
Table 1
Patient characteristics
| | Sutured repair | Mesh repair | All | |
| --- | --- | --- | --- | --- |
| Number of patients (%) | 57 (35.4) | 104 (64.6) | 161 (100) | |
| Age (years) | 46.9 (21–85) | 49.2 (25–77) | 48.4 (21–85) | 0.053 |
| Females/males (%) | 21/36 (36.8/63.2) | 39/65 (37.5/62.5) | 60/101 (37.3/62.7) | 0.174 |
| Hernia size (cm) | 1.3 (0.5–2.0) | 1.6 (1.0–2.0) | 1.5 (0.5–2.0) | 0.302 |
| BMI (kg/m 2) | 28.1 (17.7–38.6) | 30.2 (20.8–41.1) | 29.5 (17.7–41.1) | 0.061 |
| Smokers (%) | 7 (12.3) | 31 (29.8) | 38 (23.6) | |
| Diabetes (%) | 2 (3.2) | 9 (8.7) | 11 (6.8) | |
| Clinical signs of diastasis recti (%) | 7 (12.3) | 40 (38.4) | 47 (29.2) | |
| Presence of other hernias (%) | 2 (3.2) | 9 (8.7) | 11 (6.8) | |
×
Primary outcome
In total, nine cases of recurrence were observed (5.6%); there were three cases of recurrence in the sutured repair group (5.2%) and six cases of recurrence in the patch repair group (5.8%) (Table
2
). In both groups, recurrence occurred in overweight and obese patients (mean BMI 30.8, range 26.2–41.1). In the sutured repair group, recurrence occurred only in the group of patients with coexistent diastasis recti. The mean period between the surgical procedure and recurrence was 16 months (9–39).
Table 2
Characteristics of recurrence
| | Sutured repair | Mesh repair | All | |
| --- | --- | --- | --- | --- |
| Cases of recurrence (%) | 3 (4.8) | 6 (5.0) | 9 (5.0) | 0.739 |
| Age (years) | 49.7 (36–64) | 45.8 (35–70) | 47.1 (35–70) | 0.064 |
| Females/males (%) | 0/3 (0/100) | 2/4 (33.3/66.7) | 2/7 (22.2/77.8) | 0.159 |
| BMI (kg/m 2) | 27.3 (26.2–37.4) | 31.8 (20.8–41.1) | 31.2 (26.2–41.1) | |
| Clinical signs of diastasis recti (%) | 3 (100) | 4 (66.7) | 53 (77.8) | |
| Time to recurrence (months) | 14 (9–26) | 17 (10–39) | 16 (9–39) | 0.370 |
Secondary outcomes
In the patch repair group, three patients (2.9%) reported complaints at rest, and 18 patients (17.3%) reported pain during intensified physical exercise. In the sutured repair group, no patient reported pain at rest, but 7 (12.3%) reported discomfort associated with movement (pulling or prickling) (Table
3
). Only four patients (3.8%) in the patch repair group and two (3.5%) in the sutured repair group were dissatisfied with the aesthetic outcome of the surgical procedure (
p
 = 0.412). Nevertheless, the vast majority of patients ranked their satisfaction with the treatment as very high or high (94.2% in the patch repair group and 93.0% in the sutured repair group;
p
 = 0.606). None of the patients reported dissatisfaction with the received treatment.
Table 3
Characteristics of complaints and patient satisfaction
| | Sutured repair | Mesh repair | All | |
| --- | --- | --- | --- | --- |
| Pain at rest (none/mild/moderate/severe) | 57/0/0/0 | 101/0/1/2 | 158/0/1/2 | |
| Pain during physical activity (none/mild/moderate/severe) | 50/5/2/0 | 86/8/5/5 | 136/13/7/5 | 0.086 |
| Assessment of cosmetic effect (very good/good/moderate/ none) | 34/19/2/2 | 50/46/4/4 | 84/65/6/6 | 0.412 |
| Satisfaction with the treatment (very high/high/moderate/none) | 30/23/4/0 | 59/39/6/0 | 59/39/6/0 | 0.606 |
Discussion
The main weakness of this retrospective analysis is the selection bias. However, the selected two groups of patients were comparable in terms of their age, sex, hernia size and BMI (no significant differences). Nevertheless, those groups still differ significantly in terms of smoking incidence, diabetes, concomitant hernias and diastasis recti. But, as it has been stated above, these additional risk factors commonly obliged the surgeon to introduce the patch repair rather than suture repair. We believe that future prospective study with randomized group allocation may provide definite answers. However, our results imply that this issue ought to be thoroughly studied in the following analyses to verify the predisposition we have noticed in our study.
Conclusions
For the smallest umbilical hernias, the use of dense fascia suturing based on the assumptions of the short-stitch technique may be an effective alternative to patch repair techniques in patients with no additional risk factors for recurrence. The mesh patch repair method is associated with a significantly higher risk of postsurgical pain. Diastasis recti is a factor favoring umbilical hernia recurrence after both pure tissue repair and patch repair.
Compliance with ethical standards
Conflict of interest
All other authors declare that they have no conflict of interest.
Ethical approval
All procedures related to this study were in compliance with the current national law. All procedures performed in studies involving human participants were in accordance with the ethical standards of the institutional research committee and with the 1964 Helsinki Declaration and its later amendments or comparable ethical standards.
Human and animal rights
This article does not contain any studies with human participants or animals performed by any of the authors.
Informed consent
The project only involved analysis of existing de-identified data, so informed consent was waived.
Open Access
This article is licensed under a Creative Commons Attribution 4.0 International License, which permits use, sharing, adaptation, distribution and reproduction in any medium or format, as long as you give appropriate credit to the original author(s) and the source, provide a link to the Creative Commons licence, and indicate if changes were made. The images or other third party material in this article are included in the article's Creative Commons licence, unless indicated otherwise in a credit line to the material. If material is not included in the article's Creative Commons licence and your intended use is not permitted by statutory regulation or exceeds the permitted use, you will need to obtain permission directly from the copyright holder. To view a copy of this licence, visit
http://​creativecommons.​org/​licenses/​by/​4.​0/​
.
Publisher's Note
Springer Nature remains neutral with regard to jurisdictional claims in published maps and institutional affiliations.