01.04.2015 | Clinical Research | Ausgabe 4/2015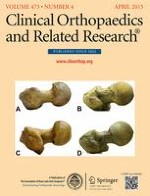 Is Neuraxial Anesthesia Safe in Patients Undergoing Surgery for Treatment of Periprosthetic Joint Infection?
Zeitschrift:
Autoren:

MD Mohammad R. Rasouli, MS Priscilla K. Cavanaugh, MD Camilo Restrepo, MD Hasan Huseyin Celyan, PhD Mitchell G. Maltenfort, MD Eugene R. Viscusi, MD Javad Parvizi
Wichtige Hinweise
One author certifies that he (JP) has or may receive payments or benefits, during the study period, an amount of USD 10,000–USD 100,000, from Zimmer (Warsaw, IN, USA); an amount of USD 10,000–USD 100,000 from Smith & Nephew (Andover, MA, USA); an amount less than USD 10,000 from ConvaTec (Skillman, NJ, USA); an amount of USD 10,000 from TissueGene (Rockville, MD, USA); an amount less than USD 10,000 from CeramTec (Plochingen Germany); an amount of USD 10,000 from Medtronic (Minneapolis, MN, USA); and has stock options with CD Diagnostics (Wynnewood, PA, USA), Hip Innovation Technology (Plantation, FL, USA), and PRN (Plymouth Meeting, PA, USA) that might pose a conflict of interest in connection with the submitted article.
All ICMJE Conflict of Interest Forms for authors and
Clinical Orthopaedics and Related Research
®
editors and board members are on file with the publication and can be viewed on request.
Clinical Orthopaedics and Related Research
®
neither advocates nor endorses the use of any treatment, drug, or device. Readers are encouraged to always seek additional information, including FDA-approval status, of any drug or device prior to clinical use.
Each author certifies that his or her institution approved the human protocol for this investigation, that all investigations were conducted in conformity with ethical principles of research, and that informed consent for participation in the study was obtained.
Abstract
Background
There is concern that neuraxial anesthesia in patients undergoing surgery for treatment of a periprosthetic joint infection (PJI) may increase the risk of having a central nervous system infection develop. However, the available data on this topic are limited and contradictory.
Questions/purposes
We wished to determine whether neuraxial anesthesia (1) is associated with central nervous system infections in patients undergoing surgery for a PJI, and (2) increases the likelihood of systemic infection in these patients.
Methods
All 539 patients who received neuraxial or general anesthesia during 1499 surgeries for PJI from October 2000 to May 2013 were included in this study; of these, 51% (n = 764) of the surgeries were performed in 134 patients receiving neuraxial anesthesia and 49% were performed in 143 patients receiving general anesthesia. Two hundred sixty-two patients received general and neuraxial anesthesia during different surgeries. We used the International Classification of Diseases, 9th Revision codes and the medical records to identify patients who had an intraspinal abscess or meningitis develop after surgery for a PJI. Multivariate analysis was used to assess the effect of type of anesthesia (neuraxial versus general) on postoperative complications.
Results
There were no cases of meningitis, but one epidural abscess developed in a patient after neuraxial anesthesia. This patient underwent six revision surgeries during a 42-day period. Patients who received neuraxial anesthesia had lower odds of systemic infections (4% versus 12%; odds ratio, 0.35; 95% CI, 023–054; p < 0.001).
Conclusions
Central nervous system infections after neuraxial anesthesia in patients with a PJI appear to be exceedingly rare. Based on the findings of this study, it may be time for the anesthesiology community to reevaluate the risk of sepsis as a relative contraindication to the use of neuraxial anesthesia.
Level of Evidence
Level III, therapeutic study.