25.07.2017 | Original Article | Ausgabe 3/2017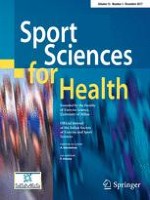 Is postural asymmetry associated with emotional stability in healthy subjects? A preliminary study
Zeitschrift:
Autoren:

Angela Notarnicola, Fabrizio Perroni, Giuseppe Maccagnano, Antonio Monno, Nicola Fiorentino, Silvio Tafuri, Biagio Moretti
Abstract
Purpose
Considering that musculo-skeletal system and nervous system reciprocally are connected by the presence of proprioceptors and interoceptors, the aim of this study was to investigate the relationship between emotional stability and posture.
Methods
We recruited 100 healthy volunteers (age 30.2 ± 9.8 years) who regularly practiced physical activity, and we evaluated posture (vertical line of Barrè) and emotional stability (a specific component of the Big Five Questionnaire—BFQ). Chi-square test was used to evaluate the distribution of the postural evaluation by sex. ANOVA with Bonferroni correction was used to evaluate the differences of the BFQ in the groups of Barrè (ascending, descending, mixed, and disharmonic). A multiple regression models was set to assess the factors related to gender, age, and posture.
P
< 0.05 was considered significant.
Results
In 86 subjects, we found asymmetric posture expressed by malalignment of the Barrè line with respect to the median line. Control of Emotion did not differ between the different groups in Barrè assessment test (
p
= 0.07), but for Impulse Control, there were significant differences between mixed and descending and between mixed and neutral posture (
p
= 0.03). In emotional stability, we observed significant differences between mixed and descending and mixed and neutral (
p
= 0.02). The subjects who had greater control of emotions and impulses had a mixed or a descending-type posture of the vertical evaluation in the Barrè test (
p
< 0.01).
Conclusions
Emotional stability was associated with postural adjustment, affecting, in particular, the cervical spine and legs. We could hypothesize that symmetrical posture is not necessarily related to psychological balance, while asymmetric posture may represent a sign of good control of emotions and impulses.