01.12.2012 | Research article | Ausgabe 1/2012 Open Access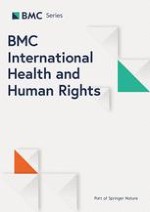 Is social exclusion pushing the Pakistani Hijras (Transgenders) towards commercial sex work? a qualitative study
Zeitschrift:
Autoren:

Muhammad Ahmed Abdullah, Zeeshan Basharat, Bilal Kamal, Nargis Yousaf Sattar, Zahra Fatima Hassan, Asghar Dil Jan, Anum Shafqat
Wichtige Hinweise
Competing interests
The authors declare that they have no competing interests.
Authors' contributions
MA and ZB were the main authors of the manuscript and involved in all aspects of the study. NY, ZF and AS were involved in the development of study questions based on the original idea, data collection and data analysis. BK and AD were involved in the data collection, liason with the gate keeper and data analysis. All co-authors have seen and approved the final version of the paper and have agreed to its submission for publication. All authors read and approved the final manuscript.
Abstract
Background
The
Hijra
is a distinct type of gender role in South Asia where men act like women. This group of people is socially excluded by the general community, in terms of attainment of an opportunity for a socially productive life. Often this sort of deprivation forces these individuals towards professions like sex trade, in pursuit of sustenance, which as a consequence places them as a key block in the puzzle of an impending generalized HIV epidemic in Pakistan.
Methods
This study is a qualitative study, which involved 8 in-depth interviews and four focus group discussions, conducted in Rawalpindi and Islamabad (Pakistan) from February to April 2012. The data was audio taped and transcribed. Key themes were identified and built upon. The respondents were contacted through a gate keeper Hijra who was a member of the hijra community. Multiple interview sessions were conducted with each respondent.
Results
Two key categories of the Hijras were identified as Khusrapan and Zananapan, during the in-depth interview sessions. This initial information paved way for the four focus group discussions. The data was presented using key themes which were identified. The study participants explained their life histories to us which made it obvious that they had been socially excluded at many stages of their lives from performing normal social functions. This lack of occupational and educational opportunities pushed them towards entering the risky business of selling sex.
Conclusion
The transgender community is socially excluded by the Pakistani society which is leading them to indulge in commercial sex and putting their lives at risk. Prudent measures are needed to form community based organizations managed and led by hijra community and addressing their social exclusion and risky behaviors.