01.04.2015 | Symposium: 2014 Bernese Hip Symposium | Ausgabe 4/2015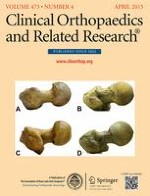 Is the T1ρ MRI Profile of Hyaline Cartilage in the Normal Hip Uniform?
Zeitschrift:
Autoren:

MD Kawan S. Rakhra, PhD Arturo Cárdenas-Blanco, PhD Gerd Melkus, MD Mark E. Schweitzer, PhD Ian G. Cameron, MD Paul E. Beaulé
Wichtige Hinweise
The institution of one or more of the authors (KSR, GM, PEB) has received, during the study period, funding from an operating grant from the Canadian Institutes of Health Research.
All ICMJE Conflict of Interest Forms for authors and
Clinical Orthopaedics and Related Research
®
editors and board members are on file with the publication and can be viewed on request.
Clinical Orthopaedics and Related Research
®
neither advocates nor endorses the use of any treatment, drug, or device. Readers are encouraged to always seek additional information, including FDA-approval status, of any drug or device prior to clinical use.
Each author certifies that his or her institution approved the human protocol for this investigation, that all investigations were conducted in conformity with ethical principles of research, and that informed consent for participation in the study was obtained.
This work was performed at The Ottawa Hospital, Ottawa, Ontario, Canada.
Abstract
Background
T1ρ MRI is an imaging technique sensitive to proteoglycan (PG) content of hyaline cartilage. However, normative T1ρ values have not been established for the weightbearing cartilage of the hip, and it is not known whether it is uniform or whether there is topographic variation. Knowledge of the T1ρ profile of hyaline cartilage in the normal hip is important for establishing a baseline against which comparisons can be made to experimental and clinical arthritic subjects.
Questions/purposes
In this diagnostic study, we determined (1) the T1ρ MRI values of hyaline cartilage of the normal hip; and (2) whether the T1ρ MRI profile of the normal hip hyaline cartilage is uniform.
Methods
Fourteen asymptomatic volunteers (11 men, three women; mean age, 35 years) prospectively underwent 1.5-T T1ρ MRI of a single hip. The weightbearing hyaline cartilage bilayer of the acetabulum and femoral head was evaluated on sagittal images and segmented into four zones: (1) anterior; (2) anterosuperior; (3) posterosuperior; and (4) and posterior. For the full region of interest and within each zone and each sagittal slice, we calculated the mean T1ρ relaxation value, a parameter that indirectly quantifies PG content, where T1ρ is inversely related to PG concentration.
Results
There was variation in the T1ρ relaxation values depending on zone (anterior to posterior) and slice (medial to lateral). When combining the most anterior quadrants (Zones 1 and 2), the T1ρ relaxation values were lower than those in the combined posterior quadrants (Zones 3 and 4) (30.4 msec versus 32.2 msec, respectively; p = 0.002), reflecting higher PG concentration. There was a difference between the T1ρ relaxation values of the sagittal slices (p = 0.038), most pronounced anteriorly in Zone 1 (26.6 msec, p = 0.001). With a selective combination of zones and slices, there were lower mean T1ρ values in the anterolateral-most region compared with the remainder of the weightbearing portion of the hip (28.6 msec versus 32.2 msec, respectively; p = 0.001).
Conclusions
The T1ρ profile of normal hyaline cartilage of the hip is not uniform with the topographic differences identified suggesting regional variations in PG concentration. This study, through determination of lower T1ρ relaxation values, suggests inherently greater PG concentrations in the more anterolateral region of the normal hip hyaline cartilage. Furthermore, it demonstrates that T1ρ MRI has the ability to detect even subtle, microscopic local differences in hyaline cartilage composition. This technique has the potential to facilitate basic science and clinical research by serving as a noninvasive surrogate or biomarker of cartilage health and thus may be added to the growing repertoire of advanced, biochemical MRI techniques for evaluating hyaline cartilage.
Level of Evidence
Level III, diagnostic study. See Instructions for Authors for a complete description of levels of evidence.