01.01.2012 | Clinical Article | Ausgabe 1/2012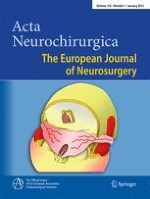 Is the use of antibiotic-impregnated external ventricular drainage beneficial in the management of iatrogenic ventriculitis?
Zeitschrift:
Autoren:

Jehuda Soleman, Serge Marbacher, Javier Fandino, Ali Reza Fathi
Wichtige Hinweise
Comment
The assumption that the use of EVD catheters impregnated with antibiotics—supported logically by the industry—can significantly reduce the risk of catheter-related infections has progressively been established in last decades. Nevertheless, it was recently demonstrated that the risk of false-negative culture results may be increased when a CSF sample is drawn through an antibiotic impregnated catheter. In fact, when managing a known shunt infection, a false-negative result from an EVD culture specimen may lead to an inappropriate duration and type of antibiotic therapy, certainly playing a noteworthy role in the actual emergence of resistant bacteria. The present well-written retrospective study, despite the small number of patients, provides considerable clinical implications, mostly related to the widespread use of antibiotic-impregnated drains and the current high rates of shunt reinfection after EVD use worldwide. Particularly interesting is the fact that there were no significant differences in the efficacy of treatment with antibiotics-impregnated EDV and standard EVD, in terms of parameters related to the course of infection (except for remission of pleocytosis), hospitalization time, and outcome. These results are similar to our personal observations. In fact, in a consecutive series of 29 patients with antibiotics-impregnated EVD compared to a comparable control group, we have documented analogous results. The authors should be complimented for their efforts in reporting their experience in this, often-neglected, field; this study should be considered for future prospective randomized clinical trials in further evaluating the real advantages (or disadvantages) of the antibiotic-impregnated catheters.
Alex Alfieri
Christian Marquart
Halle-Wittenberg, Germany
Abstract
Background
Profound evidence substantiates significantly reduced risk of catheter-related infections with prophylactic use of rifampin- and clindamycin-impregnated silicone catheters (Bactiseal®, Codman Johnson & Johnson, Raynham, MA, USA) for external ventricular drainage (EVD). However, whether Bactiseal®-EVD (B-EVD) influences the treatment of EVD-related ventriculitis remains controversial.
Methods
We performed a retrospective analysis of patients who developed ventriculitis after EVD or ventriculoperitoneal (VP) shunt placement and consequently underwent either placement of B-EVD (group 1) or a standard non-antibiotic-impregnated EVD (group 2). Analyzed parameters included demographic and clinical data, hospitalization time, time until remission of the infection parameters, detection of new bacterial resistance on antibiograms, and clinical outcome in terms of the modified Rankin scale (mRS).
Results
Time until remission of cerebrospinal fluid (CSF) pleocytosis was significantly longer in patients undergoing B-EVD (8 ± 3.8 days;
n
 = 15; group 1) than in patients who underwent standard EVD (5.1 ± 1.8 days;
n
 = 10; group 2). There was no significant difference between both groups for the time until polymorphonuclear cells dropped below 50% of peak value (5.8 ± 1.6 vs. 4.1 ± 2.9 days), CRP dropped below 10 mg/l (4.2 ± 3.5 vs. 5.6 ± 3.3 days), the time of plasma neutrophil remission (5.7 ± 2.6 vs. 5.3 ± 3.2 days) and hospitalization time (28 ± 12.5 vs. 35 ± 19.4 days). The mRS for both groups was 2. Development of new antibiotic resistance did not occur in either group.
Conclusions
This retrospective pilot study indicates that B-EVD might have no major advantage in the management of EVD or VP-shunt-related ventriculitis. Based on published reports and the results of this study, data support only the prophylactic use of B-EVD for prevention of EVD-related infections. Prospective randomized clinical trials are warranted to further evaluate the role of B-EVD in the treatment of ventriculitis.