05.02.2019 | Reviews | Ausgabe 1/2019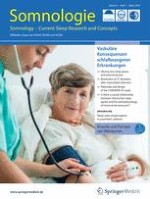 Is there a causal relationship between obstructive sleep apnea and the pathophysiology of intracranial aneurysm?
Zeitschrift:
Autoren:

MD Dr. Sebastian Zaremba, MD, PhD Prof. Dr. Erdem Güresir
Abstract
Rupture of an intracranial aneurysm (IA) leads to a rare subtype of intracranial bleeding, i. e., subarachnoid hemorrhage (SAH). However, SAH is associated with high long-term morbidity and mortality. Risk factors for the development and rupture of IA include modifiable factors, i. e., smoking and arterial hypertension. Symptoms of obstructive sleep apnea (OSA) are commonly reported following the rupture of an IA. The purpose of this review is to summarize the currently available evidence on the prevalence and effect of OSA in patients with IA. With an exploratory intent, we further identified potential mechanisms by which OSA might promote the development, growth, and rupture of IA.