01.12.2015 | Research article | Ausgabe 1/2015 Open Access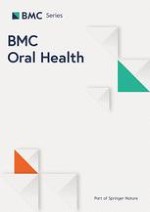 Is there a place for Tooth Mousse® in the prevention and treatment of early dental caries? A systematic review
Zeitschrift:
Autoren:

Sarah Raphael, Anthony Blinkhorn
Wichtige Hinweise
Electronic supplementary material
The online version of this article (doi:
10.​1186/​s12903-015-0095-6
) contains supplementary material, which is available to authorized users.
Competing interests
Sarah Raphael is a consultant for Colgate Palmolive, Australia. However, this work was undertaken as part of her role in the Department of Population Oral Health, University of Sydney. Anthony Blinkhorn is funded by NSW Health, Centre for Oral Health Strategy. The views expressed in this paper are those of the authors' and do not reflect the policies of either NSW Health or Colgate Palmolive, Australia.
Authors' contributions
SR was the lead reviewer and prepared the manuscript and AB was the second reviewer and assisted with the preparation of the manuscript. Both authors read and approved the final manuscript.
Authors' information
Not applicable.
Availability of data and materials
Not applicable.
Abstract
Background
It is important for Dental Professionals to consider the evidence for the effectiveness of the preventive strategies used to maintain good oral health and reduce the risk of caries in their patients. Whilst many of the traditional preventive activities, including the recommendation and use of fluoride products and the placement of fissure sealants have a wealth of clinical evidence to support their use, some of the newer preventive agents have a more limited evidence base. In order to investigate the level of scientific support behind one such technology, a systematic literature review was carried out to assess the effectiveness of Tooth Mousse® (MI Paste®) and Tooth Mousse Plus® (MI Paste Plus®) in the prevention and treatment of early dental caries.
Methods
A broad search strategy using Medline via OvidSP and EMBASE was performed in order to capture all published studies to related Casein Phosphopeptide-Amorphous Calcium Phosphate. In addition to the above searches the terms "CPP ACP" and "casein phosphopeptide amorphous calcium phosphate" were searched using PREMEDLINE and the Cochrane Central Register of Controlled Trials. Inclusion criteria were clinical trials of participants of any age, comparing the use of Tooth Mousse® (MI Paste®) or Tooth Mousse Plus® (MI Paste Plus®) to a routine oral care regimen and reporting recognised clinical outcome measures for early caries lesions. Only research studies in English were selected.
Results
7576 articles were identified, but the majority were duplicates. Once these were removed 172 articles were inspected and the focus on 'CPP-ACP formulations of Tooth Mousse® (MI Paste®) and Tooth Mousse Plus® (MI Paste Plus®) resulted in 29 articles being selected, and of these 12 studies met the inclusion criteria and were considered acceptable for the systematic review.
Discussion
The overall findings of this review did not show any significant benefits of using Tooth Mousse® (MI Paste®) products over brushing with a fluoride toothpaste for the prevention of early dental caries. With regard to the regression of white spot lesions in orthodontic patients there is a tendency towards a benefit for the use of Tooth Mousse® (MI Paste®) but the quality of evidence is limited. There is a lack of evidence to support the use of Tooth Mousse Plus® (MI Paste Plus®) over Tooth Mousse® (MI Paste®) at this time.
Conclusion
This review suggests that further well-designed randomized controlled trials are required prior to the widespread recommendation of Tooth Mousse® products for the prevention and treatment of early dental caries in the general population.