09.03.2020 | Original Contributions | Ausgabe 7/2020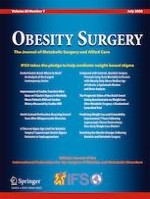 Is There an Upper Age Limit for Bariatric Surgery? Laparoscopic Gastric Bypass Outcomes in Septuagenarians
Zeitschrift:
Autoren:

Jacob B. Hammond, Christopher J. Webb, Venkata S. K. K. Pulivarthi, David G. Pearson, Kristi L. Harold, James A. Madura II
Wichtige Hinweise
Publisher's Note
Springer Nature remains neutral with regard to jurisdictional claims in published maps and institutional affiliations.
Abstract
Purpose
Upper age limits for bariatric surgery are questioned on the merits of increased complication rates in the elderly and questionable efficacy. This study evaluates outcomes of bariatric surgery in patients ≥ 70 years of age.
Materials and Methods
Retrospective review was performed of patients ≥ 70 years of age who underwent laparoscopic Roux-en-Y gastric bypass (RYGB) between 2001 and 2018. Primary endpoints were 30-day readmission, Clavien-Dindo grade III–V (CD III–IV) complications, and mortality. Secondary data included were weight loss, long-term outcomes, comorbidity resolution, hemoglobin A1C, and lipid panels.
Results
A total of 23 patients with an average age of 72 years (range 70–80 years) and mean BMI of 43.3 (range 37.3–56.0) were reviewed. Average length-of-stay was 2.4 days (range 1–6 days), with the only acute complication being aspiration pneumonia in one patient. Median follow-up was 69.3 weeks (range 9–875 weeks). One-year follow-up rate was 96%, during which no deaths or CD III-IV complications occurred. Subsequently, one patient experienced failure-to-thrive requiring temporary enteral nutrition. Average 1 year percent total weight loss (%TWL) was 29%, and this was maintained on subsequent follow-ups. Average 1 year percent excess weight loss (%EWL) was 60%, maintained long-term at 61%. Significant serum biochemical improvements included hemoglobin A1C (6.9 ± 1.4% to 5.6 ± 1.3%,
p
 = 0.001), triglycerides (155 ± 49 mg/dL to 102 ± 41 mg/dL,
p
 = 0.0003), and high-density lipoprotein cholesterol (48 ± 14 mg/dL to 58 ± 22 mg/dL,
p
 = 0.004).
Conclusion
Laparoscopic RYGB is a safe and effective treatment for obesity and obesity-related comorbidities in septuagenarians.