25.07.2017 | Original Paper | Ausgabe 2/2018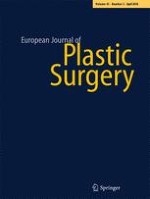 Is there still a place for skin graft in giant congenital melanocytic nevus?
Zeitschrift:
Autor:

Ahmed Hassan El-Sabbagh
Abstract
Background
Congenital melanocytic nevi (CMN) has an incidence of 1–2% in newborns. These lesions can be categorized according to size, namely small, medium, large, and giant. Complete surgical excision is the main line of treatment with reconstruction by serial excision, tissue expansion, local flaps, Integra with skin graft, and skin grafting. Other modalities include curettage, dermabrasion, and laser. The aim of this article was to express the versatility of skin grafts for management of giant nevus.
Methods
All cases with lesions that cannot be closed primarily were included. Patients were 12 females and 4 males. Their ages ranged between 4 months and 22 years. All cases were excised and covered with skin graft.
Results
Full-thickness skin graft was used in combination with split-thickness sheet graft in four cases. All these cases were in the face. The average area of excised nevus was 225.5 cm2. No signs of malignancy were observed in any of the excised nevi. No recurrence was observed in this series.
Conclusions
Surgical and nonsurgical modalities are variable tools for management of giant congenital nevus. No doubt, skin graft is a good option for management of giant nevus.
Level of Evidence: IV, therapeutic study.