15.03.2016 | Original Article | Ausgabe 4/2016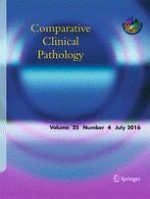 Is Wilms' tumor gene 1 a useful biomarker for detecting minimal residual disease in chronic myeloid leukemia (BCR-ABL1-p210-positive) patients?
Zeitschrift:
Autoren:

Saeideh Hajizamani, Javad Mohammadi-asl, Amal Saki Malehi, Ahmad Ahmadzadeh, Tina Vosoughi, Mohammad Seghatoleslami, Najmaldin Saki
Abstract
Chronic myeloid leukemia (CML) is a clonal hematopoietic stem cell disorder characterized by the presence of Philadelphia (Ph) chromosome. Wilms' tumor gene 1 (WT1) plays an important role in leukemogenesis and can be useful as a molecular marker to detect minimal residual disease (MRD). The goal of this study was to evaluate WT1 expression and compare it with BCR-ABL1 expression in peripheral blood (PB) of CML patients, in order to explore the utility of WT1 as an alternative marker for MRD detection. Eighteen newly diagnosed CML patients (BCR-ABL1-p210-positive), 16 chronic CML patients with a history of imatinib therapy, and 18 normal individuals (BCR-ABL1-p210-negative) as controls were enrolled in this study. WT1 and BCR-ABL1 expression was evaluated by quantitative real-time polymerase chain reaction (Q-RT-PCR). Analysis of RT-PCR data was performed using REST Software (2009, QIAGEN, Valencia, USA). Data were analyzed by SPSS software (v.16.0) using Spearman's rho and Kruskal-Wallis methods. WT1 expression in all PB samples of newly diagnosed CML patients was significantly higher than that of the normal individuals (
P
 = 0.003). WT1 expression was not different in patients on imatinib therapy compared to normal individuals (
P
 = 0.6), but it was significantly lower than that of the newly diagnosed CML patients (
P
 = 0.001). There was no significant correlation between expression of WT1 and BCR-ABL1 and hematological findings in newly diagnosed CML patients. We confirm the oncogenic role of WT1 by WT1 upregulation in CML. Due to lack of significant correlation between BCR-ABL1 and WT1 expression, using WT1 as an additional marker for CML monitoring could not be applicable.