01.12.2019 | Case report | Ausgabe 1/2019 Open Access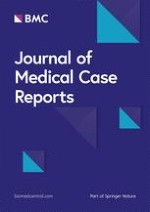 Isolated primary cold abscess of the sternum: a case report
Zeitschrift:
Autoren:

Lovenish Bains, Pawan Lal, Tirlok Chand, Kamal Kishore Gautam, Mohd Yasir Beg, Pritesh Kumar
Wichtige Hinweise
Publisher's Note
Springer Nature remains neutral with regard to jurisdictional claims in published maps and institutional affiliations.
Abbreviations
CB-NAAT
Cartridge-based nucleic acid amplification test
EPTB
Extrapulmonary tuberculosis
ESR
Erythrocyte sedimentation rate
M. tuberculosis
Mycobacterium tuberculosis
MRI
Magnetic resonance imaging
NAAT
Nucleic acid amplification test
PCR
Polymerase chain reaction
Introduction
Skeletal tuberculosis (TB) accounts for 1–4% of patients with mycobacterial infection [
1
]. Any bone can be a site for TB, but sternum involvement is very uncommon. Primary sternal TB without pulmonary involvement is even more uncommon. Despite TB being a common disease in endemic countries and worldwide, a thorough literature search of the PubMed database for keywords "primary tuberculosis of sternum" and "primary tuberculous osteomyelitis of sternum" yielded 30 and 22 articles, respectively. Primary tuberculous sternal osteomyelitis accounts for approximately 0.3% of all types of tubercular osteomyelitis and the probable source appears to be extension from paratracheal or hilar lymph nodes [
2
]. This pattern of disease has been scarcely reported even from the endemic countries with high disease burden [
3
–
5
]. We present our experience of a young woman with large dumb-bell-shaped collection originating from the sternum as an isolated primary cold abscess of the sternum. This type of clinical presentation needs a high amount of suspicion for diagnosis and management.
Case presentation
A 23-year-old woman of Asian descent (Caucasian) presented with a gradually progressing painless swelling on anterior chest wall for the past 5 months, with rapid increase in size in the last 1 month associated with increasing discomfort. She had no significant past history and was immunocompetent. There was no history of contact with Koch's infection or in her family. There was no history of trauma to anterior chest wall or any surgery in the vicinity. She is a housewife and belongs to lower middle socioeconomic class as per modified Kuppuswamy scale. She had no addiction of any kind and received a 1-week course of antibiotics (amoxicillin and clavulanate) before presenting to us. Her Bacillus Calmette–Guérin (BCG) vaccination status was unconfirmed. She was of average build, afebrile, pulse rate 76/minute, respiratory rate 13/minute, and blood pressure 120/84 mmHg at presentation. There was a large visible swelling on anterior chest wall that was 12.5 cm in diameter, soft, non-tender, temperature was not raised, and fluctuant (Fig.
1
). The overlying skin was normal and there was no other significant finding. There was no cervical lymphadenopathy. Chest and abdomen examinations and neurological assessment were essentially normal. Ultrasonography revealed a hypoechoic collection with approximately 180 cc contents. Her laboratory investigations were hemoglobin 9.1 g%, total leukocyte count of 8600 with 64% polymorphs and 35% lymphocytes, and erythrocyte sedimentation rate (ESR) 26 mm. Liver functions and renal functions were within normal range. A chest X-ray was also normal. Magnetic resonance imaging (MRI) showed a hyperintense collection in upper chest wall anterior to sternum measuring approximately 120 × 68 × 49 mm in size (Fig.
2
) with marrow edema and cortical irregularity in left side of manubrium (Fig.
3
) and another collection in vicinity which was communicating with primary swelling (Fig.
4
).
×
×
×
×
Few enlarged paratracheal lymph nodes were present. The pus was aspirated and subjected to investigations. The pus was negative for acid-fast bacilli (AFB) but nucleic acid testing by cartridge-based nucleic acid amplification test (CB-NAAT) for
Mycobacterium tuberculosis
was positive and susceptible to rifampicin. The pus culture showed no growth after 72 hours. A Mantoux test read at 48 hours was 4 mm; sputum examination and culture were negative for AFB. Her weight was 55 kg and she was started on daily dose anti-tubercular therapy (ATT) with four drugs, which were isoniazid (300 mg), rifampicin (450 mg), pyrazinamide (1200 mg), and ethambutol (800 mg), for 2 months (2HRZE) followed by 4 months of isoniazid and rifampicin (4HR). She needed two aspirations over 5 weeks initially. The culture became positive for
M
.
tuberculosis
. After 7 weeks of therapy, the swelling decreased considerably (Fig.
5
a). Currently, she has completed 6 months of therapy and the swelling has now disappeared (Fig.
5
b).
×
Discussion
Conclusion
Isolated primary sternal osteomyelitis due to
M
.
tuberculosis
is still rare despite the high prevalence of TB in endemic countries. Tubercular involvement of the sternum can occur with various presentations and can involve any age group. It needs a high index of suspicion as diagnosis is usually delayed. A CT scan and MRI provide essential clues but confirmation is by culture or histopathological examination. ATT remains the mainstay of treatment. Surgical drainage of the abscess should be considered only if it does not resolve by aspiration and ATT.
Ethics approval and consent to participate
Written consent for the publication of this case report was obtained from the patient. Approval for case report by the institutional ethics committee is not required.
Consent for publication
Written informed consent was obtained from the patient for publication of this case report and any accompanying images. A copy of the written consent is available for review by the Editor-in-Chief of this journal.
Competing interests
The authors declare that they have no competing interests.
Open Access
This article is distributed under the terms of the Creative Commons Attribution 4.0 International License (
http://​creativecommons.​org/​licenses/​by/​4.​0/​
), which permits unrestricted use, distribution, and reproduction in any medium, provided you give appropriate credit to the original author(s) and the source, provide a link to the Creative Commons license, and indicate if changes were made. The Creative Commons Public Domain Dedication waiver (
http://​creativecommons.​org/​publicdomain/​zero/​1.​0/​
) applies to the data made available in this article, unless otherwise stated.
Publisher's Note
Springer Nature remains neutral with regard to jurisdictional claims in published maps and institutional affiliations.