01.12.2017 | Research | Ausgabe 1/2017 Open Access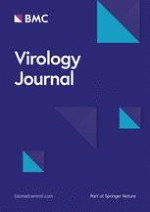 Isolation and identification of a new strain of hirame rhabdovirus (HIRRV) from Japanese flounder
Paralichthys olivaceus

in China
Zeitschrift:
Autoren:

Jialin Zhang, Xiaoqian Tang, Xiuzhen Sheng, Jing Xing, Wenbin Zhan
Abstract
Background
Hirame rhabdovirus virus (HIRRV) is a rhabdovirus that causes acute hemorrhage disease in fish culture, resulting in a great economic loss in parts of Asia and Europe.
Methods
In this study, we isolated a virus strain named as CNPo2015 from cultured Japanese flounder in Shandong province, China. Cell isolation, electron microscopic observation, RT-PCR detection and phylogenetic analysis were used for virus identification. Further, artificial infection experiment was conducted for virulence testing.
Results
The gross signs included abdominal distension, fin reddening and yellow ascitic fluid in the abdominal cavity. Histopathological examination revealed marked cell degeneration and necrosis in the kidney. The tissue homogenates induced obvious cytopathic effects in EPC, FHM and FG cell lines. Electron microscopic observation showed the virus had a bullet-like shape with a capsule membrane. RT-PCR and sequencing analysis revealed that CNPo2015 belonged to the HIRRV with high sequence identity to HIRRV isolates. Infection experiment confirmed that the HIRRV CNPo2015 strain was virulent to flounder juveniles with a LD50 value of 1.0 × 105.9 TCID50/fish.
Conclusion
In conclusion, we described the first isolation and characterization of a HIRRV from Japanese flounder in China. This will provide a candidate material for further research on the infection mechanism and preventive strategies of HIRRV.