01.12.2018 | Integrative article | Ausgabe 1/2018 Open Access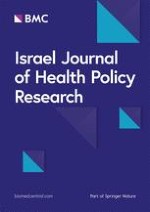 Israel's 2008 Organ Transplant Law: continued ethical challenges to the priority points model
Zeitschrift:
Autor:

Corinne Berzon
Abbreviations
DBDD
Donation after brain death determination
Introduction
It is estimated that less than 1.5% of people who die meet the eligibility criteria for organ donation. Since the implementation of brain stem testing in the 1970's, the principal source of cadaveric transplant organs has been brain dead donors who have voluntarily signed donor cards, the consequence of which is that the number of patients awaiting organ transplants is increasing while the supply of viable organs meets only a fraction of the demand. While there is an organ gap throughout the world, it is especially marked in Israel where religious and cultural barriers exacerbate the problem. The inadequate supply of organs in Israel in the past led needy patients to turn to transplant tourism, traveling abroad to purchase kidneys on the black market. In 2008, a group of physicians, ethicists, and politicians put forth an innovative new law that would halt Israeli access to foreign organs while providing incentives to donate both live and cadaveric organs. Although transplant tourism has been effectively eradicated and live donation has increased dramatically, in part because of the support of private organizations, increasing the availability of cadaveric transplant organs remains a challenge. Furthermore, ethical reservations regarding the law remain unresolved nearly a decade since its adoption. This paper describes these reservations and possible responses to them, and briefly explores potential alternatives to the 2008 Organ Transplant Law.
Background: Israel's 2008 Organ Transplant Law
The Organ Transplant and Brain-Respiratory Death Law responded to three major challenges to organ procurement in Israel: 1) confusion regarding determination of death, 2) organ trafficking and unethical transplant tourism, and 3) the critical dearth of transplantable organs – both live and cadaveric [
1
].
Brain-respiratory death
Responding to misconceptions and inconsistencies regarding brain death determination, the first section of the law attempted to provide a legal definition of time of death that would satisfy both medical and religious requirements. However, the 2008 Brain-Respiratory Death Law has met with challenges. One challenge is that physicians with the authority to determine death are required to undergo a voluntary training course. Since the law's implementation, fewer than half of the number of physicians are certified in the new standards of brain death determination than were prior – dropping from 210 to 102 [
2
,
3
]. This decrease resulted in fewer brain death determinations in the years following the implementation of the law, or in delays that compromised organ retrieval for the purposes of transplantation. Another logistical obstacle relates to novel standards of ancillary and apnea testing. After the law was passed, some hospitals were unable to determine brain death in accordance with the law because they did not possess the correct apparatus required for the stipulated tests [
2
,
3
]. Though the necessary equipment is now available in most hospitals, the demanding testing process and lack of certified doctors contributes to delays and limit the number of brain death determinations. This, in turn, affects rates of organ retrieval.
Another obstacle posed by the Brain-Respiratory Death Law is that it requires physicians to consult with families of potential donors prior to determining brain death. Since many families resist brain death testing, fewer brain death determinations are ascertained, resulting in lower availability of transplant organs [
2
,
3
]. While this paper will not focus on brain death determination, it is important to note that this aspect of the law has been detrimental to efforts at increasing organ donation.
The second part of Israel's 2008 Organ Transplant Law consists of three initiatives designed to increase both live and cadaveric donation on the one hand, and eliminate unethical transplant tourism and organ trafficking on the other.
Transplant tourism
This section of the law bans organ trafficking and reimbursement by Israeli health funds for illegal transplant tourism. For years, in the face of the severe organ shortage, Israeli authorities tolerated the practice of purchasing organs abroad and facilitated transplant tourism by permitting local health funds to reimburse patients for commercially transplanted organs [
4
–
6
]. The 2008 Organ Transplant Law stipulates that transplants performed outside of Israel must be conducted in accordance to the laws of the host country and must also comply with Israeli law. Insurance companies are only permitted to reimburse if transplants are performed within the boundaries of these regulations. This section of the law has succeeded in curbing transplant tourism [Fig.
1
].
×
Live donation incentives
The second section of the Organ Transplant Law removes disincentives for live donation. Through multiple forms of reimbursement, live altruistic or directed donors may donate a kidney, bone marrow, or a liver splice without suffering undue financial strain. While this may have contributed to increasing rates of live organ donation in Israel, live donation has also become a popular form of charity among Orthodox Jews. The organization
Matnat Chayim
('Gift of Life') has facilitated 463 kidney donations since 2009 with nearly all donors identifying as Orthodox or ultra-Orthodox [
7
]. The total number of live altruistic kidney donors in Israel from 2009 to 2016 was 1032, meaning that approximately 40% of live kidney donations in Israel since 2009 have been facilitated by
Matnat Chayim
[
7
]. Thus, while the Organ Transplant Act has removed disincentives from live donation and has constrained the ability for Israelis to seek kidney transplants abroad, charitable kidney matching has greatly contributed to the increase in live organ donation over the same time period that the law has been in effect.
Priority points
The third section of the Organ Transplant Law offers three degrees of priority in the form of additional points allocated to a patient's recipient profile should they require an organ transplant. The priority points policy became operative in April of 2012.
1)
Maximum
priority is extended to patients who have a first-degree family member who was a cadaveric donor, or have themselves previously been live donors [
8
]. Maximum priority takes immediate effect with no waiting period.
2)
Regular
priority rewards registered donors of at least 3 years, although this waiting period was initially waived to encourage greater public participation when it was first introduced in 2011. Priority points act as a tie breaker by giving an advantage to consented donors over non-donors in cases of similar medical need [
9
].
3)
Second
priority awards a small number of points to individuals with first-degree relatives who are registered as an organ donor [
10
].
Israel's priority policy is unprecedented and innovative. While a priority system is in place in Singapore, it was implemented alongside routine retrieval – individuals who choose to exit the organ pool are deprioritized on the organ transplant waiting list [
11
]. In this sense, increases in authorization cannot be separated from the routine retrieval policy. The Israeli legislation, contrarily, preserved the pre-existing voluntary procurement policy and applies priority to those who join the pool of organ donors. Widespread media campaigns accompanying the implementation of the Israeli Organ Transplant Law have increased public awareness of the organ gap and encouraged more Israelis to sign donor cards [
12
]. The increase in new card carriers was especially marked from 2011 to 2013 during the implementation period, but has since dropped off [Fig.
2
]. This indicates that media campaigns may have been instrumental in encouraging consent to donation rather than the incentive program itself. Currently nearly 900,000 Israelis, amounting to approximately 14% of the adult population, have signed an organ donor card and are eligible for priority [
13
].
×
Studies have shown that when next of kin know that the decedent consented to organ donation they will likely not block retrieval [
14
,
15
]. By encouraging Israelis to sign a donor card during their lifetime, more families are aware of the decedent's wishes and are more likely to authorize retrieval. In 2016 the rate of family consent to organ retrieval reached 62%, a 20% from the 2007 consent rate prior to the Organ Transplant Law [Figs.
3
and
4
]. While these gains are significant, Israel continues to lag behind Europe and North America in consent to cadaveric organ retrieval. In 2016, the donation rate per million of population (PMP) was just 10 deceased donors PMP [
16
] and donor registration was far lower than in Europe and North America. Therefore, while Israelis are benefitting from greater awareness and authorization to organ donation, maximizing organ retrieval continues to pose a challenge. Furthermore, ethical challenges to the priority model have been raised. Thus, while the Organ Transplant Law succeeded in increasing consent to donation by next of kin and raised awareness of organ donation in general, further examination is warranted.
×
×
Review of challenges to Israel's priority policy
Since the law's implementation, positive effects of the priority system have been recorded. However, the policy has also been met with criticism. Several articles have been published challenging priority allocation in general and the Israeli formulation in particular. In the following section, I will summarize challenges to Israel's priority policy and possible responses to them.
Is there an alternative?
Israel introduced priority points incentives to promote compliance to cadaveric organ retrieval. However, the policy does not accommodate ideological refusers and has not induced an overall increase in cadaveric donation. In August 2017, an assessment of national donation rates released by the International Registry in Organ Donation and Transplantation (IRODaT) ranked Israel 28 out of 38 reported countries for 2016 [
16
]. The five countries with the highest rates of donation, Spain, Croatia, Portugal, Belgium, and France, all retrieve cadaveric organs by default. Routine organ retrieval includes all individuals in the donor pool without the requirement of express consent. Opting in procurement policies, such as the one currently in place in Israel, presume refusal to donation and tend to have lower donation rates. Although the Israeli policy has retained presumed refusal to cadaveric organ donation, Siegal's findings from a 2014 survey demonstrate that close to 70% of Israelis support organ donation [
57
]. Public acceptance of donation has been further bolstered by widespread media campaigns following the implementation of the Organ Transplant Act. This high rate of acceptance is not reflected in the low rate of cadaveric donation, indicating that although most Israelis would donate their organs after death, very few take positive steps to indicate this preference. In the absence of explicit consent, many next of kin refuse to authorize organ retrieval. The cadaveric donation rate is further negatively impacted by Israel's stringent brain death determination protocol. Although the priority points policy was intended to overcome the inertia inherent in voluntary organ procurement, and despite a significant increase in next of kin authorization when consent is ascertained, donation rates in Israel remain low. In addition, the priority point policy faces ethical challenges. Routine retrieval with an option to exit the donor pool and permit next of kin to block retrieval, often called 'soft' opt out, may resolve many of the ethical challenges while increasing donation. Although a change in default alone is unlikely to increase donation rates [
58
], implementing routine retrieval in conjunction with other strategies could contribute to transplantation sustainability in Israel. These strategies may include earlier identification of potential donors and improved coordination with families, expanded brain death determination and organ viability protocol, the development of protocol for donation after circulatory death determination, and focused media campaigns conveying the permissibility of cadaveric organ donation in Jewish tradition. Although an in-depth discussion of these potential strategies is beyond the scope of this paper, they have been successful in other countries - particularly in Spain which has been the global leader in organ donation rates for several years [
59
] - and as such are worth exploring.
Conclusion
In this paper, I have presented seven challenges to Israel's current priority policy. Many of them are specific to priority allocation, while others are common to all voluntary procurement policies. Soft opt out, or routine retrieval, respects both individual and family choice by permitting individuals to register refusal while also preserving the family's ability to block retrieval. As Wilkinson states: "[D]o what the family wants except where it conflicts with the negative right of veto of the individual" [
60
]. The individual's right against trespass is upheld by legally binding mechanisms to opt out of the donor pool without penalty, and the family's wishes not to donate are likewise upheld without permitting the defeat of the decedent's express wishes. Routine retrieval also resolves the challenge that priority points discriminates against ideological objectors and disadvantages unintentional free riders. The automatic inclusion of all individuals in the organ pool unless they opt out ensures that no one is deprioritized because of their individual beliefs, which constitutes an infringement on freedom of conscience and expression, and likewise protects those who may be disadvantaged by low medical literacy, ignorance of the policy, or simple laziness - none of which should constitute grounds for diminished access to a life-saving medical resource. Although Israel's Organ Transplant Law was intended to provide an ethical means of narrowing the organ gap, it has not been as effective as hoped and furthermore faces numerous ethical challenges that may not be resolvable. For this reason, it may be time to explore routine retrieval as a possible alternative to the priority points incentive model.
Acknowledgements
Not applicable
Availability of data and materials
Not applicable
Ethics approval and consent to participate
Not applicable
Consent for publication
Not applicable
Competing interests
The author declares that she has no competing interests.
Open Access
This article is distributed under the terms of the Creative Commons Attribution 4.0 International License (
http://​creativecommons.​org/​licenses/​by/​4.​0/​
), which permits unrestricted use, distribution, and reproduction in any medium, provided you give appropriate credit to the original author(s) and the source, provide a link to the Creative Commons license, and indicate if changes were made. The Creative Commons Public Domain Dedication waiver (
http://​creativecommons.​org/​publicdomain/​zero/​1.​0/​
) applies to the data made available in this article, unless otherwise stated.