01.12.2018 | Research | Ausgabe 1/2018 Open Access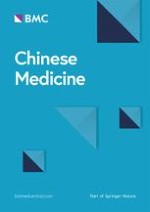 iTRAQ-based proteomic analysis to identify the molecular mechanism of Zhibai Dihuang Granule in the Yin-deficiency-heat syndrome rats
Zeitschrift:
Autoren:

Chang-Ming Liu, Jing Chen, Su Yang, Ting-Ting Jiang, Zhong-Liang Chen, Hui-Hui Tu, Lian-Gen Mao, Yu-Ting Hu, Lin Gan, Zhong-Jie Li, Ji-Cheng Li
Wichtige Hinweise
Electronic supplementary material
Abstract
Background
Zhibai Dihuang Granule (ZDG) is a traditional Chinese medicine which has been used to treat Yin-deficiency-heat (YDH) syndrome for thousands of years in China. However, little work has been conducted to explore the molecular mechanism of ZDG in YDH syndrome, and the processes of YDH syndrome prevention and treatment have been developed slowly. The present study was aimed to explore the therapeutic mechanism of ZDG on YDH syndrome.
Methods
The YDH syndrome rats were induced by hot Chinese herbs, then treated by ZDG orally for 1 week. Body weight was measured every 2 days. After sacrifice, blood samples were collected and the thymus, adrenal glands, spleen, and liver were immediately removed and weighed. iTRAQ-based proteomics approach was applied to explore the serum protein alterations with the treatment of ZDG, and to investigate the underlying mechanism of ZDG in treating YDH syndrome.
Results
The body weights of YDH syndrome rats were significantly decreased compared with control group, and increased in ZDG treated rats. The relative weights of thymus in YDH syndrome rats were increased compared with the control rats, and significantly decreased in after ZDG treatment. In the proteomic analyses, seventy-one proteins were differentially expressed in the YDH syndrome group and the ZDG treated group, including 10 up-regulated and 61 down-regulated proteins. Gene ontology analysis revealed that the differentially expressed proteins were mostly related to immune response, and pathway enrichment analysis showed that these proteins were enriched in coagulation and complement cascades. Enzyme-linked immunosorbent assay was performed to detect the protein levels in coagulation and complement cascades, and the results showed that complement component 5 levels were significantly increased, while fibrinogen gamma chain levels were significantly decreased in the ZDG treated group.
Conclusions
We found that ZDG treatment could lead to proteins alteration in immune response, especially in coagulation and complement cascades. ZDG can up-regulate the proteins in the complement cascade to eliminate pathogens, and down-regulate the proteins in the coagulation cascade to suppress inflammation. Our study provides experimental basis to understand the therapeutic mechanism of ZDG and revealed that ZDG can regulate coagulation and complement cascades in treating YDH syndrome.