01.06.2014 | Original Article – Cancer Research | Ausgabe 6/2014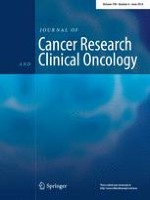 JAB1 and phospho-Ser10 p27 expression profile determine human hepatocellular carcinoma prognosis
Zeitschrift:
Autoren:

You Wang, Ya-nan Yu, Shu Song, Tie-jun Li, Jing-ying Xiang, Hong Zhang, Mu-dan Lu, Fang Ji, Ling-qing Hu
Wichtige Hinweise
You Wang, Ya-nan Yu and Shu Song have contributed equally to this work.
Abstract
Purpose
To elucidate the clinicopathological significance and the role of Jun Activation Domain-Binding Protein 1 (JAB1), Ser10-phosphorylated p27 (p27S10), and total p27 in human hepatocellular carcinoma (HCC) prognosis.
Methods
We evaluated the expression of JAB1 and p27S10 in tissues by immunohistochemical and immunoblot analyses. p27 Ser10 phosphorylation and Ser10 phosphorylation-dependent p27–JAB1 interaction were demonstrated in proliferating Huh7 cells following transfection of pEGFP-p27WT/p27S10A/p27S10D plasmids and pcDNA3.1-p27WT/p27S10A/p27S10D-Myc plasmids. Univariate and multivariate analysis were used to determine their role in HCC prognosis.
Results
JAB1 and p27S10 are overexpressed in HCC samples compared with paired normal tissues. There was a strong correlation between JAB1 and p27S10 expression (
P
< 0.001), and expression of both inversely correlated with total p27 levels (
P
< 0.001). High JAB1 and p27S10 expression correlated with histological grade, vascular invasion, and serum α-fetoprotein (AFP) level (all
P
< 0.01). Total p27 expression also correlated with histological tumor grade (
P
= 0.048) and AFP level (
P
= 0.015). The p27S10(high)/JAB1(high)/p27(1ow) profile was the most reliable indication of poor prognostic. Ser10 phosphorylation increased and total p27 levels decreased in a time-dependent manner in serum-starved Huh7 cells following addition of serum. Immunoprecipitation analysis revealed that p27 Ser-to-Asp substitution at position 10 (S10D) markedly enhanced the interaction between JAB1 and p27, but replacement of S10A reduced binding.
Conclusions
This study revealed that combined JAB1, p27S10, and total p27 expression may serve as a prognostic marker for HCC.