27.03.2017 | Special Article | Ausgabe 1/2018 Open Access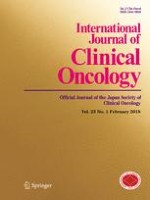 Japanese Society for Cancer of the Colon and Rectum (JSCCR) guidelines 2016 for the treatment of colorectal cancer
Zeitschrift:
Autoren:

Toshiaki Watanabe, Kei Muro, Yoichi Ajioka, Yojiro Hashiguchi, Yoshinori Ito, Yutaka Saito, Tetsuya Hamaguchi, Hideyuki Ishida, Megumi Ishiguro, Soichiro Ishihara, Yukihide Kanemitsu, Hiroshi Kawano, Yusuke Kinugasa, Norihiro Kokudo, Keiko Murofushi, Takako Nakajima, Shiro Oka, Yoshiharu Sakai, Akihito Tsuji, Keisuke Uehara, Hideki Ueno, Kentaro Yamazaki, Masahiro Yoshida, Takayuki Yoshino, Narikazu Boku, Takahiro Fujimori, Michio Itabashi, Nobuo Koinuma, Takayuki Morita, Genichi Nishimura, Yuh Sakata, Yasuhiro Shimada, Keiichi Takahashi, Shinji Tanaka, Osamu Tsuruta, Toshiharu Yamaguchi, Naohiko Yamaguchi, Toshiaki Tanaka, Kenjiro Kotake, Kenichi Sugihara, Japanese Society for Cancer of the Colon and Rectum
Introduction
1. Guideline objectives
Incidence and mortality of colorectal cancer have substantially increased in Japan recently. According to the vital statistics of Japan in 2015, colorectal cancer accounted for the largest number of deaths from malignant neoplasms in women. Nevertheless, the number of deaths from colorectal cancer per unit population has increased approximately tenfold during the past 50 years. Many new treatment methods have been developed during that time, and their use in combination with advances in diagnostic methods has led to a steady improvement in the results of treatment. However, there are differences in treatment among medical institutions in Japan that provide medical care for patients with colorectal cancer, and the differences may lead to differences in the results of treatment.
The following are expected to be achieved with these Guidelines: (1) Improvement of the treatment of colorectal cancer in Japan; (2) Improvement of the results of treatment; (3) Reduction of the human and financial burden; (4) Increased benefits for patients.
2. How to use these guidelines
These Guidelines were prepared by consensus reached by the Guideline Committee of the Japanese Society for Cancer of the Colon and Rectum, based on a careful review of the evidence retrieved by literature searches and in view of the medical health insurance system and actual clinical practice settings in Japan, and therefore, they can be used as a tool for treating colorectal cancer in actual clinical practice settings. More specifically, they can be used as a guide to obtaining informed consent from patients and choosing the method of treatment for each patient. However, these Guidelines provide only general recommendations for choosing treatment strategies for colorectal cancer, and they do not control or limit treatment strategies or treatment methods that are not described herein. They can also be used as a document to explain the rationale for selecting treatment strategies and treatment methods that differ from those described therein.
The Japanese Society for Cancer of the Colon and Rectum (JSCCR) is responsible for the statements in these Guidelines. However, the personnel directly in charge of treatment, not the JSCCR or the Guideline Committee, are responsible for the outcome of treatment.
3. Users
The users of these Guidelines are mainly clinical doctors engaged in all aspects of the medical treatment of colorectal cancer.
4. How to develop these Guidelines
(1) Recording methods
We adopted the concept from the first edition, in which the treatment policy algorithm was disclosed and a simple explanation thereof recorded and added further comments in regard to categories requiring additional explanation. Since the 2009 edition, areas of debate have been raised as clinical questions (CQs) and included with recommendations added. In the 2016 edition, this practice was continued, with corrections and additions made to the CQs based on knowledge acquired since the 2010 version.
(2) Evidence level/strength of recommendations of CQs
The recommendations added to CQs included the evidence level and strength of recommendations determined using the following direction.
(2-1) Evidence level
*GRADE: The Grading of Recommendations Assessment, Development, and Evaluation.
(2-2) Strength of recommendations
Draft recommendation statements and the strength of the recommendations were directed based on the outcomes and the level of evidence obtained from the process described above and were evaluated at a consensus meeting of the Guideline Committee.
5. Literature search
Treatment guidelines for colorectal cancer
Comments
Comments
Comments
1. Treatment strategies for liver metastases
Comments
2. Treatment strategies for lung metastases
3. Treatment strategies for brain metastases
[Surgical therapy]
4. Treatment strategies for hematogenous metastases to other organs
Chapter 5: Chemotherapy
1. Adjuvant chemotherapy
Second-line therapy
Third-line and subsequent therapies
Comments
Chapter 6: Radiotherapy
[Dose and fractionation]
[Dose and fractionation]
Chapter 7: Palliative care
Chapter 8: Surveillance after surgery for colorectal cancer
Clinical questions
Note
The principle for treatment of pT1 (SM) carcinomas, which are invasive carcinomas, is intestinal resection with lymph node dissection. However, some pT1 (SM) carcinomas have a very low risk of metastasis, and the purpose of these criteria is to minimize the need for additional resections that eventually result in overtreatment of such patients. While no diagnostic methods make it possible to predict lymph node metastasis (pN) without fail, the degree of risk of metastasis can be used as a basis for determining whether or not to perform additional treatment.
CQ-2: What are the criteria for selecting endoscopic resection in regard to lesions with a maximum diameter of 2 cm or greater?
CQ-3: what cautions should be noted when using colorectal ESD to implement endoscopic resection of colonic lesions?
CQ-4: is laparoscopic surgery for colorectal cancer effective?
CQ-5: resection of the primary tumor in patients with unresectable distant metastases
CQ-6: in cases where peritoneal dissemination is noted, is it effective to resect peritoneal dissemination at the same time as the primary lesion?
CQ-7: what are the indications for resection for cases in which metastasis is simultaneously noted in the liver and the lungs?
However, there are insufficient data to determine the indication criteria for surgery. It is necessary to obtain informed consent after informing the patient of the rather low cure rate and the absence of outcome predictors (recommendation/evidence level 2D).
CQ-8: is adjuvant chemotherapy effective subsequent to distant metastatic lesion resection?
CQ-9: is resection of liver/lung metastasis effective, if it becomes possible as a result of the effects of chemotherapy?
CQ-10: what are the surgical indications in cases of local recurrence of rectal cancer?
CQ-11: is preoperative adjuvant chemotherapy effective in cases of operable liver metastasis?
CQ-12: is heat coagulation therapy effective in regard to liver metastatic lesions?
CQ-13: is postoperative adjuvant chemotherapy effective in patients aged 70 or over?
CQ-15: is the appropriate duration of postoperative adjuvant chemotherapy six months?
CQ-16-1: is concomitant therapy with molecular target drugs recommended as the primary treatment?
As long as there are no contraindications, usage in combination with bevacizumab, cetuximab or panitumumab is recommended (recommendation level/evidence level 1A).
CQ-16-2: is concomitant therapy with molecular target drugs recommended as the secondary treatment?
As long as there are no contraindications, consider a combination of the following molecular target drugs as the secondary treatment.
Bmab: Proposed regardless of the primary treatment regimen (2B),
Anti-EGFR antibody drugs: Not recommended for patients treated with anti-EGFR antibody in the primary treatment (1D),
Proposed for the patients treated without anti-EGFR antibody in the primary treatment (2C).
CQ16-3: is of regorafenib or TAS-102 therapy recommended for 3rd or later line treatment?
Propose both drugs for patients with PS0-1 who are failed or intolerant to the standard therapy. (1A)
SN-38 is an active metabolite of IRI and the UGT1A1 gene encodes an intrahepatic metabolizing enzyme, which converts the active form SN-38 to the inactive form SN-38 G. In patients who are double heterozygotes for *6 and *28 or homozygotes for *6 or *28 of the UGT1A1 gene, the glucuronic acid conjugation capacity of UGT1A1 is known to be decreased and the metabolism of SN-38 to be delayed, and serious adverse drug reactions such as neutropenia may occur as a result. It is especially desirable to test for a UGT1A1 genetic polymorphism before administering IRI to patients with a high serum bilirubin level, elderly patients, patients whose general condition is poor (e.g., PS2), and patients in whom severe toxicity (especially neutropenia) developed after the last administration of IRI. On the other hand, because IRI toxicity cannot be predicted with certainty on the basis of the presence of a UGT1A1 genetic polymorphism alone, it is essential to monitor patients' general condition during treatment and manage adverse drug reactions carefully regardless of whether a genetic polymorphism is detected.
CQ-17: is hepatic arterial infusion therapy effective in cases of liver metastases?
CQ-18: is preoperative chemoradiotherapy effective in patients with rectal cancer?
CQ-19: is chemoradiotherapy effective for unresectable locally advanced and locally recurrent rectal cancer?
CQ-20-1: is surveillance subsequent to curative surgery for colorectal cancer effective?
CQ-20-2: is the surveillance of multiple cancers (multiple colorectal cancer or other organ cancer) effective subsequent to curative surgery for colorectal cancer?