04.03.2019 | Original Article | Ausgabe 5/2019 Open Access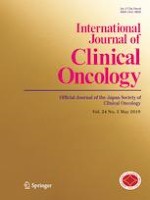 Japanese subgroup analysis of a phase III study of S-1 versus docetaxel in non-small cell lung cancer patients after platinum-based treatment: EAST-LC
Zeitschrift:
Autoren:

Shunichi Sugawara, Kazuhiko Nakagawa, Nobuyuki Yamamoto, Hiroshi Nokihara, Yuichiro Ohe, Makoto Nishio, Toshiaki Takahashi, Koichi Goto, Makoto Maemondo, Yukito Ichinose, Takashi Seto, Hiroshi Sakai, Akihiko Gemma, Fumio Imamura, Masato Shingyoji, Hideo Saka, Akira Inoue, Koji Takeda, Isamu Okamoto, Katsuyuki Kiura, Satoshi Morita, Tomohide Tamura
Wichtige Hinweise
Electronic supplementary material
Publisher's Note
Springer Nature remains neutral with regard to jurisdictional claims in published maps and institutional affiliations.
Abstract
Introduction
The East Asia S-1 Trial in Lung Cancer (EAST-LC) was a randomized phase III study conducted in East Asia that demonstrated the non-inferiority of S-1 to docetaxel in previously treated patients with advanced non-small cell lung cancer (NSCLC). Here, we reported the results of the Japanese subgroup treated with docetaxel 60 mg/m2, the standard dosage in Japan.
Patients and methods
Patients were randomized 1:1 to receive either S-1 or docetaxel. The primary endpoint was overall survival (OS); the secondary endpoints included progression-free survival (PFS), response rate (RR), quality of life (QOL), and safety.
Results
Patient characteristics in the Japanese subgroup (
n
 = 724) were similar to those in the overall EAST-LC population. Median OS was 13.4 months in the S-1 group and 12.6 months in the docetaxel group. In pemetrexed-pretreated patients, OS with S-1 was similar to that with docetaxel. Median PFS was 2.9 and 3.0 months in the S-1 and docetaxel groups, respectively. RR was 9.4% and 10.3% in the S-1 and docetaxel groups, respectively. The QOL of patients treated with S-1 was better compared with that of patients treated with docetaxel. Decreased appetite and diarrhea were more common in the S-1 group, whereas the frequency of neutropenia and febrile neutropenia was markedly higher in the docetaxel group.
Conclusions
This Japanese subgroup analysis showed that S-1 had similar efficacy to docetaxel in patients with previously treated advanced NSCLC. These results are similar to those of the overall EAST-LC population.