01.12.2017 | Research article | Ausgabe 1/2017 Open Access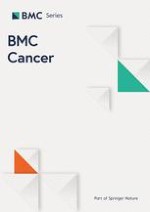 JS-K, a nitric oxide pro-drug, regulates growth and apoptosis through the ubiquitin-proteasome pathway in prostate cancer cells
Zeitschrift:
Autoren:

Guobin Tan, Mingning Qiu, Lieqian Chen, Sai Zhang, Longzhi Ke, Jianjun Liu
Wichtige Hinweise
Electronic supplementary material
The online version of this article (doi:
10.​1186/​s12885-017-3351-0
) contains supplementary material, which is available to authorized users.
Abbreviations
AREs
Androgen response elements
CRPC
Castration-resistant prostate cancer
E1
Ubiquitin-activating enzyme
E2
Ubiquitin-conjugating enzyme
GST
Glutathione-S-transferase
PSA
Prostate specific antigen
Background
Methods
Cell culture
Human prostate cancer cell lines LNCaP was obtained from Shanghai Institute of Biochemistry and Cell Biology (SIBCB, Shanghai, China) and C4-2 was obtained from American Type Cell Culture (ATCC, USA), all of which were AR-positive. Prostate cancer cells were routinely grown in RPMI-1640 medium GIBCO, Grand Island, NY, USA, supplemented with 10% fetal bovine serum (FBS, GIBCO), 100 U/ml penicillin, and 100 U/ml streptomycin at 37 °C under an atmosphere of 5% CO 2 in humidified air.
Cell proliferation assay
Proliferation of LNCaP and C4-2 cells was evaluated by Cell Counting Kit-8 (CCK-8, Dojindo, Japan) assay according to the manufacturer's instructions. Briefly, Cells (1 × 10 3/well) were plated in 96-well plates (Corning Incorporated; Corning, NY, USA) for 3 days, and treated by JS-K (5 μM) for 12, 24 and 48 h. 10μLCCK-8reagentwas added to the culture medium in each well. After incubating at 37 °C for 3 h, absorbance at 450 nm of each well was measured with a microplate reader (BioTek Instruments, Inc., USA). Each experiment was repeated three times, and the data represent the mean of all measurements.
Real time quantitative PCR (RT-PCR)
Total RNA was isolated using the total RNA kit (Omega Bio-tek, Inc., Guangzhou, China) and reversely transcribed to cDNAs with a TaqMan miRNA Reverse Transcription Kit (TaKaRa, Dalian, Liaoning, China). The mRNA levels of
Siah2
,
NKX3.1
,
PSA
,
PMEPA1
, and
SLC45A3
were quantified by real-time quantitative PCR performed with SYBR Premix Ex Taq II (TaKaRa; Dalian, Liaoning, China). PCR was carried out with a two-step qRT-PCR with specific primers for
GAPDH
(as internal control) at 95 °C for 30s, followed by 40 cycles of amplification at95°C for 5 s and 56 °C for 30s. All results were representative of three independent assays, and the levels of mRNAs were expressed as 2
-ΔΔCT
. The designed specific primers were listed in Table
1
.
Table 1
Sequences for target gene primer for RT-PCR
Gene

Primer sequence 5′-3'

Tm (°C)

siah2

F:

GCCCACAAGAGCATTACCAC

59.80

R:

GTTTCTCCAGCACCAGCAT

57.60

NKX3.1

F:

GCCAAGAACCTCAAGCTCAC

59.80

R:

TTCTCCAAGTCTCCCAGCTC

59.80

PMEPA1

F:

CTCCACCACACACACATCG

59.70

R:

CGCCTTCCTCTCACTCCTCT

61.90

SLC45A3

F:

GAGCCGAGACGAAGCAGTT

59.70

R:

GCCAAAGGTTAGCAGGTTGA

57.80

PSA

F:

TCCTCACAGCTGCCCACT

60.58

R:

ATATCGTAGAGCGGGTGTGG

59.98
Caspase-3/7 activity assay
For Caspase-3/7 activity assays, LNCaP and C4-2cells were treated by JS-K in time-dependent manner and Caspase-Glo 3/7 assay was performed in 96-well plates. Then, an equal volume of Caspase-Glo 3/7 reagent was added into each well, and the cells were incubated for 30 min at room temperature in the dark. The luminescence was measured by a luminometer (Berthold Sirius L, Germany).
Apoptosis analysis
FITC Annexin V Apoptosis Detection Kit I (BD Biosciences, USA) was used to access the apoptosis of PCa cells induced by JS-K according to the manufacturer protocols.
Western blotting analysis
Western blotting was conducted using standard procedures, the membrane was incubated with anti-PARP (Cell Signaling Technology, USA), anti-p53 (Santa Cruz Biotechnology, Europe), anti-Bcl-2 (Cell Signaling Technology, USA), anti-Bax (Cell Signaling Technology, USA), anti-Caspase-9 (Cell Signaling Technology, USA), anti-Caspase-3 (Cell Signaling Technology, USA), anti-AR (Santa Cruz Biotechnology, Europe), anti-Siah2 (Santa Cruz Biotechnology, Europe), anti-NCoR1 (Santa Cruz Biotechnology, Europe), anti-p300 (Santa Cruz Biotechnology, Europe), Mdm2 (Santa Cruz Biotechnology, Europe), anti-Ub (Cell Signaling Technology, USA), anti-GADPH (Abcam, Cambridge, MA, USA). And then the membrane strip were probed with a secondary antibody (1:10,000, Pure Earth Biotechology Co. Ltd.), GADPH was used as a loading control.
Co-immunoprecipitation
Cells were washed with PBS prior to cell lysis in 1 ml of IP lysis buffer [20 mM Tris pH 7.5, 150 mM NaCl, 1% Triton X-100, 2.5 mM sodium pyrophosphate, 1 mM EDTA, 1% Na 3VO 4, 0.5 μg/mL leupeptin, 1 mM phenylmethanesulfonyl fluoride (PMSF)], and Cell lysates were cleared by centrifuging at 14,000×g for 10 min at 4 °C. After the supernatant was incubated overnight at 4 °C with suitable dilutions of the primary antibody, Protein A/G Agarose (Beyotime Institute of Biotechnology, Haimen, China) was added, and incubated for additional 4 h at 4 °C. Washed precipitated proteins were analyzed by Western blot.
Statistical analysis
Each experiment was done at least twice and at least one duplicate. The results were presented as mean ± standard deviation(SD). All statistical analyses were performed using SPSS 17.0. Differences between treatments were assessed using Fisher's Least Significant Difference test [LSD (L)]. Significant difference was inferred for
P
< 0.05 and extremely significant difference
P
< 0.01 and
P
< 0.001.
Results
Discussion
Conclusion
The present results suggested that JS-K was in a position to inhibit proliferation and induce apoptosis through probable regulation of the ubiquitin-proteasome degradation pathway. Taken together, it would be of high interest to further investigate whether JS-K regulates interactions between AR-bound co-regulators and AREs of specific AR target genes. These findings warrant further investigation to facilitate potential development of AR-based prognostic and therapeutic approaches.
Acknowledgements
We wish to thank all members of our groups and Professor Hege Chen for helpful discussions and fruitful collaboration. Our research is supported by grants from the National Natural Science Funds.
Funding
Our research is supported by grants from the National Natural Science Funds (NO.81272833) (the design of the study, collection, analysis, and interpretation of the data and in writing the manuscript).
Availability of data and materials
The data sets supporting the results of this article are included within the article and its additional files (including IC50 results and western blot results).
Authors' contributions
GT designed, performed the majority of experiments and drafted the article; MQ, LC were involved in experiments; SZ, LK performed statistical analysis, JL critically revised the article and funded the experiments; All authors have read and approved the final version of this manuscript.
Competing interests
The authors declare that they have no competing interests.
Consent for publication
Not applicable.
Ethics approval and consent to participate
Not appropriate.
Publisher's Note
Springer Nature remains neutral with regard to jurisdictional claims in published maps and institutional affiliations.
Open Access
This article is distributed under the terms of the Creative Commons Attribution 4.0 International License (
http://​creativecommons.​org/​licenses/​by/​4.​0/​
), which permits unrestricted use, distribution, and reproduction in any medium, provided you give appropriate credit to the original author(s) and the source, provide a link to the Creative Commons license, and indicate if changes were made. The Creative Commons Public Domain Dedication waiver (
http://​creativecommons.​org/​publicdomain/​zero/​1.​0/​
) applies to the data made available in this article, unless otherwise stated.