01.12.2016 | Research | Ausgabe 1/2016 Open Access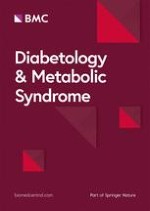 Juçara pulp supplementation improves glucose tolerance in mice
Zeitschrift:
Autoren:

L. M. Oyama, F. P. Silva, J. Carnier, D. A. de Miranda, A. B. Santamarina, E. B. Ribeiro, C. M. Oller do Nascimento, V. V. de Rosso
Abstract
Background
The consumption of hyperlipidic and hypercaloric diet is considered a major factor to promote obesity and the consumption of food with antioxidant properties, like Juçara (
Euterpe edulis
Mart), could be a tool to prevent the deleterious effect of high white adipose deposition. The aim of the present study was to evaluate the effect of administration of juçara pulp in mice fed a high-fat, high-calorie diet on glucose tolerance and adipose tissue inflammatory status.
Methods
Mice were distributed into the following groups: control diet; control diet plus 0.5 % of juçara; control diet plus 2 % of juçara; hypercaloric and hyperlipidic diet; hypercaloric and hyperlipidic diet plus 0.5 % of juçara and hypercaloric and hyperlipidic diet plus 2 % of juçara. Treatments started when mice were 8 weeks old and carried on for a total period of 10 weeks. The serum glucose, triacylglycerol, total cholesterol, insulin, adiponectin, lipopolysaccharides and free fatty acids concentrations were measured. Oral glucose tolerance test was performed. TNF-α, IL-6, and IL-10 protein level were determined by ELISA on mesenteric and epididymal white adipose tissues. Determination of catalase activity was realized in the same tissues. Data were analysed using one-way analysis of variance and post hoc analysis was performed with the Tukey's test.
Results
The addition of 0.5 % juçara improved glycemic response in animals that consumed normocaloric as well as hypercaloric and hyperlipidic diets (HC). Supplementation with 0.5 and 2 % did not change the body composition of animals that received the HC diet; however, the animals fed the normocaloric diet with 2 % juçara gained body mass. An intake of 2 % juçara in the HC diet promoted a reduction of catalase activity and IL-10 level in epididymal adipose tissue.
Conclusions
These results suggest that with the administration of 0.5 % juçara, the beneficial effects of polyphenols overcome the deleterious effects of macronutrient composition of juçara, whereas with the administration of 2 % juçara promotes damage by the composition of the fruit and overshadows the beneficial effects of polyphenols on glucose metabolism. On the other hand, higher juçara supplementation improves the inflammatory status targeted by the HC diet.