07.02.2018 | Original Article | Ausgabe 4/2018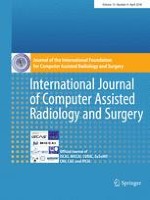 Kalman filter-based EM-optical sensor fusion for needle deflection estimation
Autoren:

Baichuan Jiang, Wenpeng Gao, Daniel Kacher, Erez Nevo, Barry Fetics, Thomas C. Lee, Jagadeesan Jayender
Wichtige Hinweise
This work was supported by the National Center for Research Resources and the National Institute of Biomedical Imaging and Bioengineering of the National Institutes of Health through Grant Nos. P41EB015898 and P41RR019703 and Chinese Scholar Council, the National Natural Science Foundation of China under Grants (No. 81201150 and 81171304). This work was also partly supported by the General Financial Grant from the China Post-doctoral Science Foundation (No. 2012M520741) and Specialized Research Fund for the Doctoral Program of Higher Education (No. 20122302120077), Fundamental Research Funds for the Central Universities (No. HIT.NSRIF. 2013106) and Self-Planned Task (No. SKLRS201407B) of State Key Laboratory of Robotics and System (HIT) and International S&T Cooperation Program of China, 2014DFA32890.
Abstract
Purpose
In many clinical procedures such as cryoablation that involves needle insertion, accurate placement of the needle's tip at the desired target is the major issue for optimizing the treatment and minimizing damage to the neighboring anatomy. However, due to the interaction force between the needle and tissue, considerable error in intraoperative tracking of the needle tip can be observed as needle deflects.
Methods
In this paper, measurements data from an optical sensor at the needle base and a magnetic resonance (MR) gradient field-driven electromagnetic (EM) sensor placed 10 cm from the needle tip are used within a model-integrated Kalman filter-based sensor fusion scheme. Bending model-based estimations and EM-based direct estimation are used as the measurement vectors in the Kalman filter, thus establishing an online estimation approach.
Results
Static tip bending experiments show that the fusion method can reduce the mean error of the tip position estimation from 29.23 mm of the optical sensor-based approach to 3.15 mm of the fusion-based approach and from 39.96 to 6.90 mm, at the MRI isocenter and the MRI entrance, respectively.
Conclusion
This work established a novel sensor fusion scheme that incorporates model information, which enables real-time tracking of needle deflection with MRI compatibility, in a free-hand operating setup.